Maldon favourite Sark wins best regional kebab restaurant award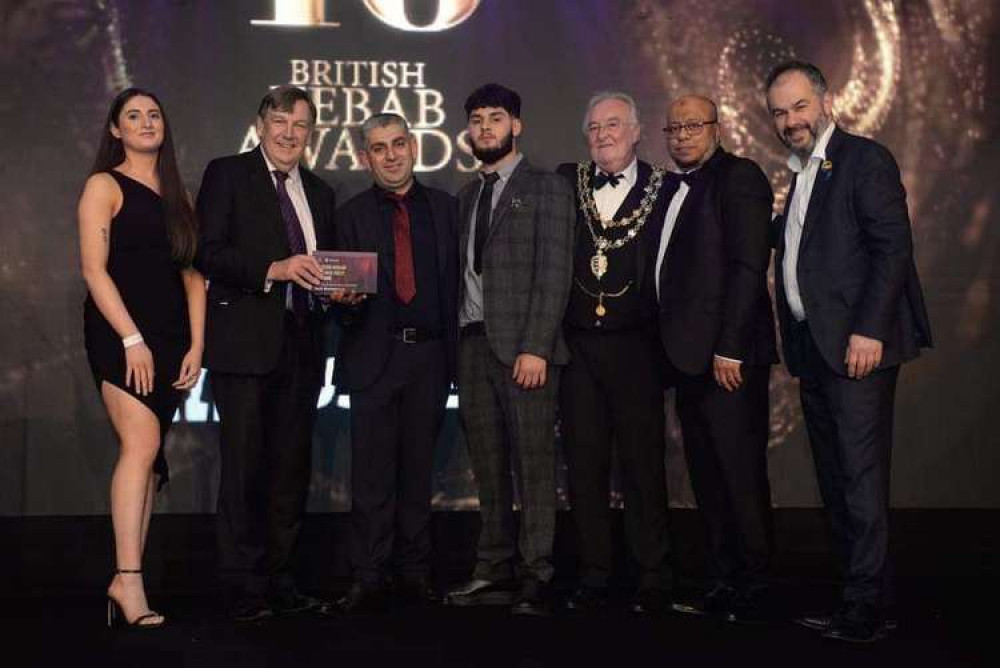 Maldon MP John Whittingdale presented Sark with the best regional kebab restaurant award last night (Photo: British Kebab Awards)
A popular family-run restaurant in Maldon has been crowned as one of the best regional kebab houses in the UK.
Sark Restaurant took home the prize at the British Kebab Awards ceremony in London last night (Tuesday, 1 March), which was also attended by Maldon MP John Whittingdale and mayor David Ogg.
Owner Sami Barli thanked residents for supporting his restaurant, which opened on Maldon High Street in 2017 to serve Turkish and Mediterranean food to guests.
The popular restaurant now welcomes hundreds of customers a week and employs 20 full-time and eight part-time staff.
Sami said: "As a successful family business, we are grateful for all the support from everyone for helping us achieve the best regional restaurant award."
Presenting the award to Sark at last night's ceremony, Mr Whittingdale said: "I hope everybody here has enjoyed the fantastic cuisine that they offer."
Turknaz Restaurant, in Whitley Bay, and Zeytin Grill, in Horsham, were also named best regional kebab houses during the ceremony, with 17 awards in total on offer.
This is the tenth year of the awards, held in association with JUST EAT, described as a "chance to recognise and champion the efforts of local kebab takeaways and restaurants across the nation".
Sark competed against nine other finalists for the best regional kebab restaurant award - including Turquoise Kitchen in Chelmsford.
READ MORE:
- Plans to build more homes on top of Poundstretcher on Maldon High Street unveiled
-
Owner of new convenience shop on Maldon High Street wants to be 'part of the solution' to the climate crisis
- Bid to turn medieval building on Maldon High Street into flats refused