Maldon High Street businesses fly the Pride flag following alleged 'homophobia' at town council meeting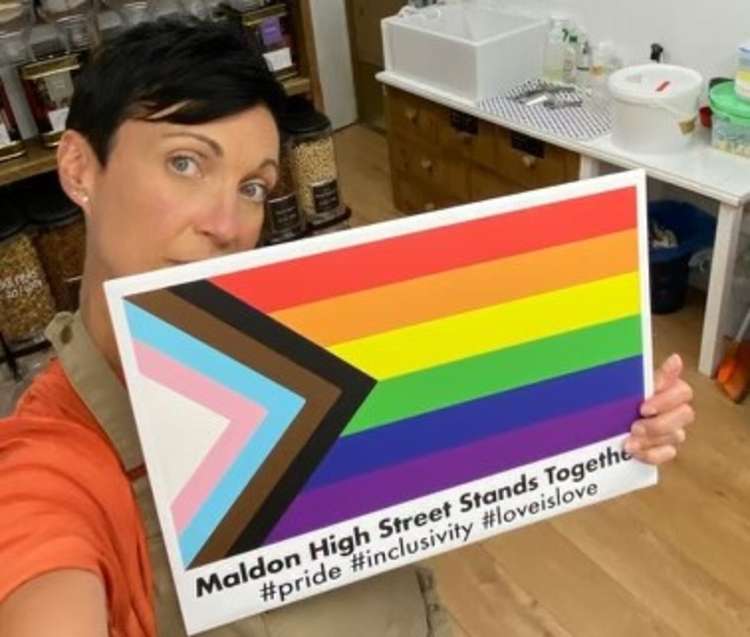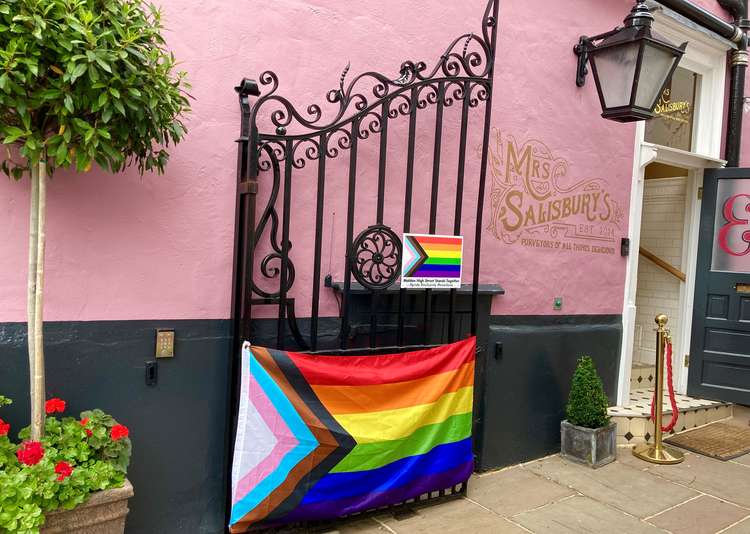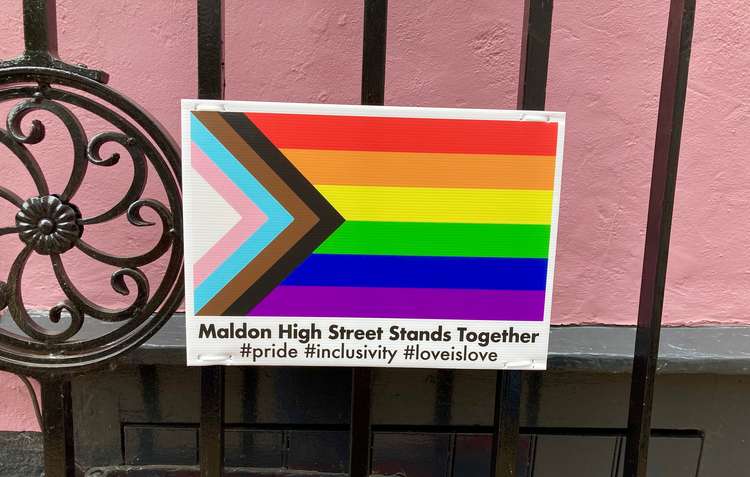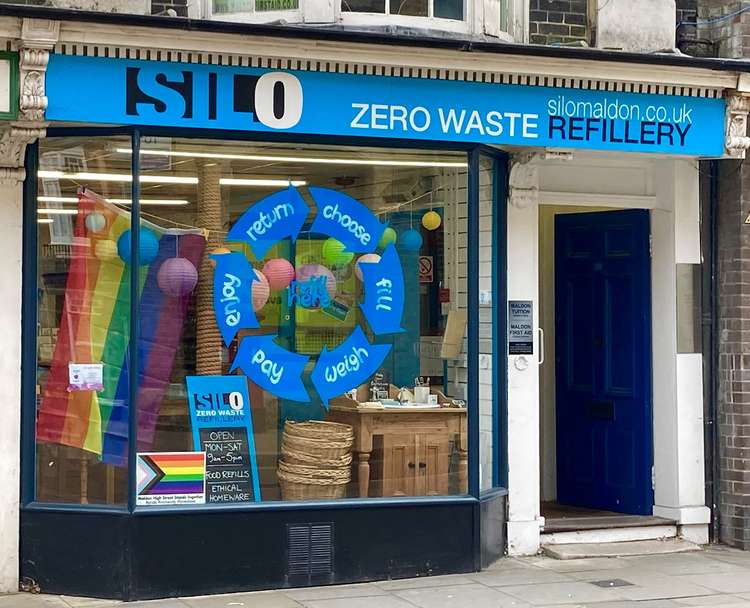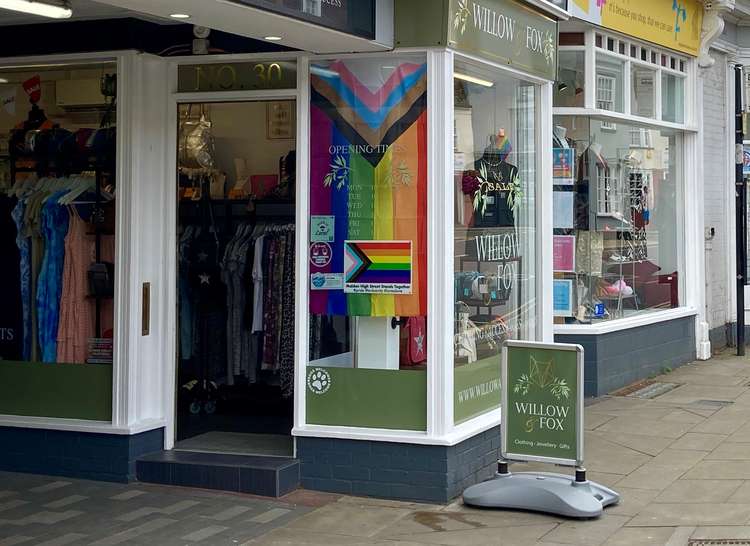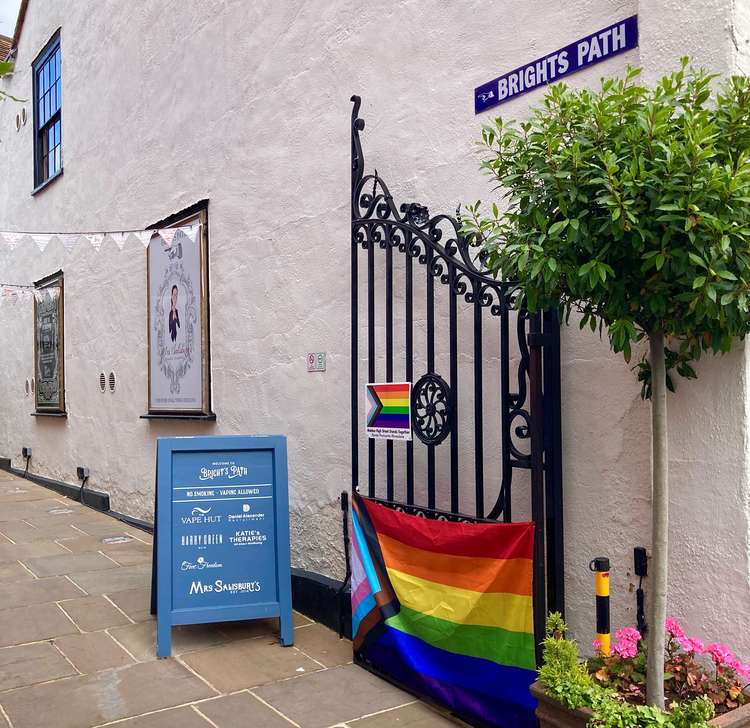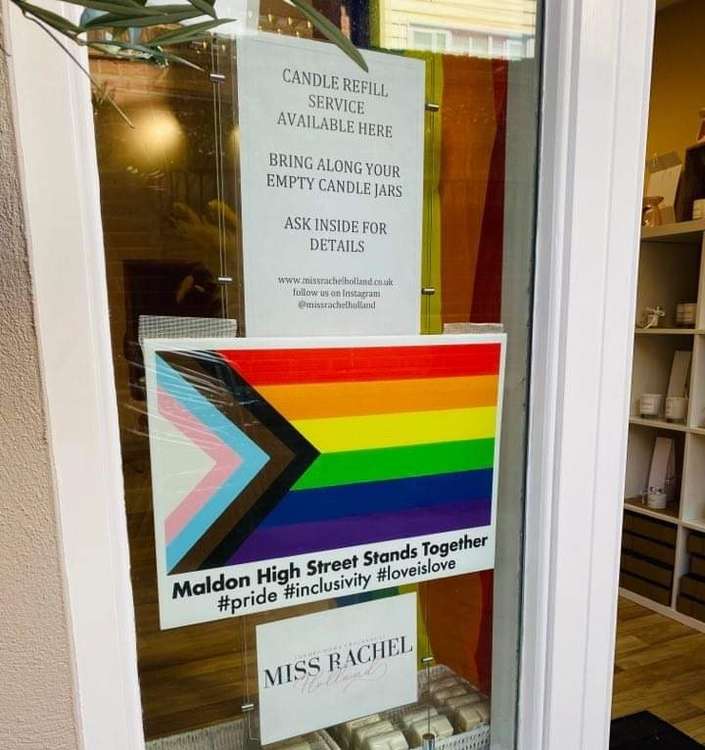 Businesses along Maldon High Street have hung Pride flags and posters expressing solidarity with the LGBTQ+ community in their shop windows this week, after alleged "homophobia" at a Maldon Town Council (MTC) meeting.
In the meeting, Councillor Tony Shrimpton said: "When you're talking about same-sex weddings, you're not talking about weddings."
Allison Gray, owner of boutique Willow and Fox, helped to organise the display after comments made during the meeting emerged.
She hopes that it will "get people talking and form a better understanding of what inclusivity means".
She said: "Sometimes good things can come from adversity and I think it's great that a huge number of High Street businesses have supported the LGBTQ+ community and are also flying the flag for inclusivity.
"Any form of discrimination is wrong and to hear it happening within our town council was hugely disappointing.
"Flying a flag might not change some people's views, however, if it gets people talking and forming a better understanding of what inclusivity means, then that's the positive to take away from this."
Lucie Walker-Hutt, from zero-waste shop Silo, said she is "protesting the comments made by Maldon town councillors" alongside other local business owners.
"We have come together to say that these people do not speak for us," she said. "I am appalled that elected representatives can make homophobic remarks in a public forum with no recourse.
"Maldon welcomed me with open arms and I want to show the same love."
At the meeting of MTC's finance and general purposes committee on Monday 16 August, councillors debated a request from the Friends of the Moot Hall Charitable Trust to fly the rainbow flag during Pride Week and for weddings at the venue.
The committee agreed to buy the flag on behalf of the venue to be flown during Pride Week, but refused to allow the venue to fly it during weddings.
Councillor Jeanette Stilts said: "I think we're setting a precedent if we fly it at weddings, because then why aren't we flying flags for other people?"
Councillor Tony Shrimpton said: "I'm happy about the flag being flown during Pride Week. "I'm not very keen on calling same-sex weddings weddings. "When you're talking about same-sex weddings, you're not talking about weddings." In a letter addressed to town councillors, 26 local businesses said they were "absolutely shocked to see the blatant homophobic and outdated comments made by Councillor Shrimpton and others" at the meeting. This feeling remains among businesses, many of whom said they are displaying Pride flags and posters to show that these comments "do not represent" their views. Laura Donovan, who recently opened Heart of Craft on the High Street, said: "I am displaying Pride flags and a poster at my shop to show that the appalling, homophobic remarks made by Mr Shrimpton do not represent my views. "I find it astonishing that anyone could make those kinds of statements in a public setting without being challenged," she said. While businesses expressed their "disappointment", they praised the community they have found in each other. Staff at Maldon Books said: "We were so disappointed to read the comments made at the meeting. "It's very sad to see that, in 2021, this kind of prejudice exists within our local council. "This kind of attitude is outdated and harmful, and we do not feel that it represents the values of our community. "We will always stand up for inclusivity, and we're pleased to be standing together with our fellow businesses on the High Street." Teresa Kristara, owner of healing shop Crystal Shack, said: "This is an important time in history to come together - in every aspect." In a statement, town mayor Councillor David Ogg offered his "sincerest apologies to all local residents and business owners" for "the offence caused recently by comments made by one councillor at a recent meeting". He said: "As those who attended the finance committee meeting, the comments made by Councillor Tony Shrimpton which have caused so much dismay were his own personal views, and not the view of the town council, nor of the other members who were present." All town councillors will be offered equality and diversity training.