UP CLOSE IN MALDON: Julie Taylor tells why she won't let the elderly down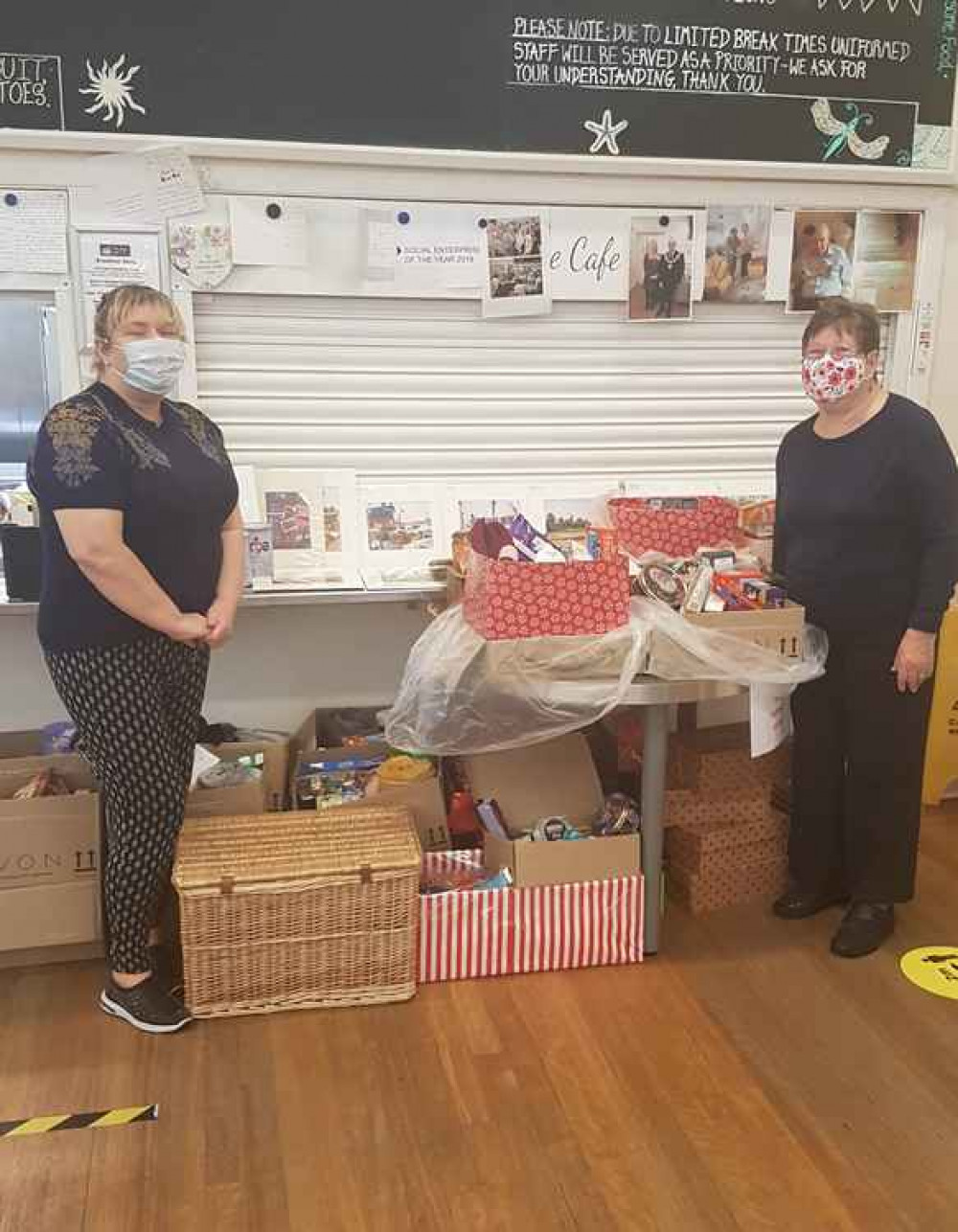 Julie Taylor, left, with a colleague and the Christmas hampers
Maldon Nub News aims to be supportive to EVERY element of the community from business and shops to people and charities and clubs and sports organisations.
Everyone is finding it tough at the moment and wants life to get back to normal.
We will be profiling some of these local businesses and groups regularly over coming weeks in a feature called UP CLOSE IN MALDON in the hope that we can be a supportive springboard for your full return to business as usual.
Today we talk to Julie Taylor, who runs the Café at St Peter's Hospital in Maldon. During an in-depth Q and A session Julie reveals why she works so hard for the people of Maldon as well as what she loves about the town's community and their gratitude for its support during the current crisis.
Julie Taylor is well known in Maldon for the work she does at The Cafe in St Peter's Hospital – not just in the café itself, but in taking meals out to local elderly people who need them.
In the past seven years since taking over running the café, Julie has won a number of prestigious awards for her community work and has currently been shortlisted for another (we can't reveal more on that just yet).
During lockdown, she was the heroine who drove miles each day, not only to deliver meals and food to the people of the town who needed her help, but also to provide a friendly face at a window or doorway to pensioners who had no other company.
All of this would be incredible enough by itself, of course, but in Julie's case it is especially remarkable.
For this beacon of hope for others has been suffering a deep personal pain. The year 2020 got off to the most tragic start of all for Julie before lockdown started when a close young relative - just 19 years of age – suffered fatal stab wounds in a knife incident.
On top of that terrible tragedy, Julie, aged 55, has suffered her own health problems, too. So how was it that she managed to get up and help others each day when we were all plunged into the unprecedented situation of the pandemic?
"I just knew those people needed me," she says, "they need looking after and this might sound strange, but it gives me pleasure to help them. I treat them like I would my own mum and dad."
And now that a second national lockdown is approaching, Julie is ready to help the pensioners who need her again.
"I must admit I've been crying this morning," Julie says, "they all managed to get through it last time, but I'm worried that not all of them will this time. I have one person I visit who is 97 and another who is 100.
"The mental health issues involved for some people in being so lonely are terrible, but I will be there when I can be."
However, in everything she has achieved at the café, before and during the last months, Julie says she couldn't have managed it without the support of Provide at St Peter's Hospital, Matron Alison Cook and community agent Kelly Coombes. She is also enormously thankful for contributions from Morrison's, Tesco and Heybridge Asda.
"They have all been amazing and need a mention," she adds.
Julie is also worried that the Christmas hampers the café is preparing for the elderly will not now get filled in time, as like all other hospitality venues the café will need to close its doors for a month at 2pm on Wednesday. All donations of non-perishable food and toiletries for the hampers are welcome at the café before then. But Julie has huge faith in the Maldon community. "Everyone in the community here is so supportive and really care about each other," she says, "it's such a lovely place to work." The Facebook page for The Cafe in St Peter's Hospital can be found
here.