Plume Academy Maldon thanked for efforts to feed the community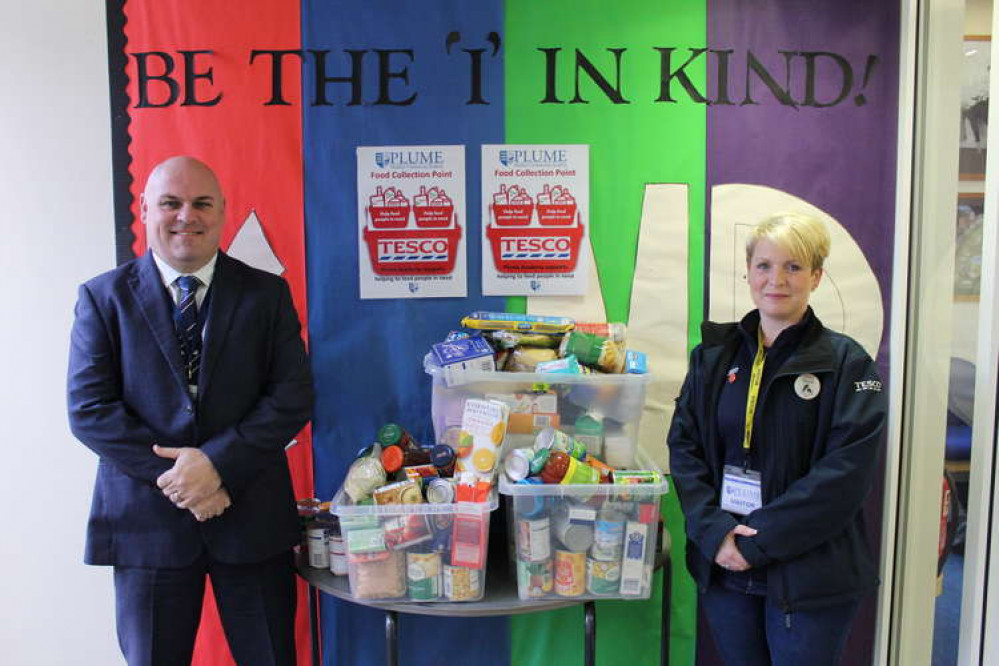 Principal Carl Wakefield and Rhiain Oakley, community champion at Tesco Maldon (Photo: Plume Academy)
Members of the Plume Academy in Maldon have been thanked for their efforts to help local families in need.
Staff, students, parents and carers from the school are collecting food and essential items to donate to families in need of support this Christmas.
There are food collection points across both campuses at the school - on Fambridge Road and Mill Road - for people to drop off their donations.
The food collection points aim to support Tesco Maldon's scheme to help feed the community, which it is running in conjunction with its charity partners Fareshare and the Trussell Trust.
Fareshare is a food redistribution charity, while the Trussell Trust supports a network of food banks across the UK.
Rhiain Oakley, the community champion at Tesco Maldon, visited the school's Fambridge Road campus on Wednesday (24 November) to see how the donations are coming along and thanked all involved for their "kindness".
A spokesperson for Plume Academy said: "Tesco and charity partners Fareshare and the Trussell Trust thank staff, student, parents and carers for the very generous food and essential items donations for financially-challenged families living locally, who rely on the generosity shown on both campuses across the academy and beyond in the community."
They said the items are to be "collected and shared as part of a bigger local and national initiative that Plume, as a community-led academy, is delighted and honoured to be associated with".
Tesco Maldon, in Fullbridge, is also running a scheme to spread festive joy to care home residents this Christmas - find out how you can support the initiative here.