'Utterly brilliant!': TV presenter Timmy Mallett spotted in Maldon on UK cycling & painting tour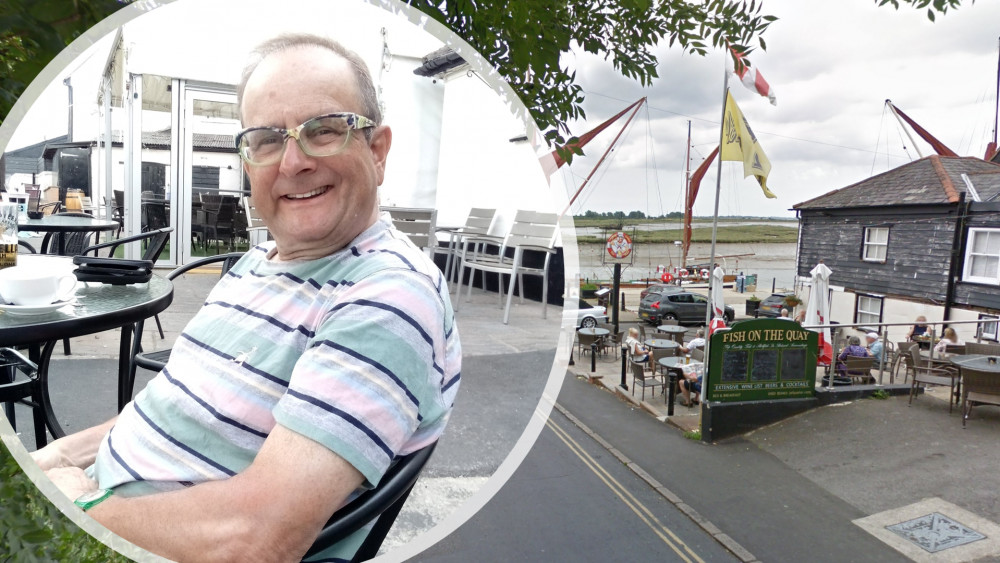 Timmy Mallett has traded his famous mallet for a paintbrush, as he tours the UK on his bike. (Photos: Dawn Asher and Google)
Timmy Mallett, who presented children's TV shows such as 'Wacaday' and 'Wide Awake Club' in the 1980s, paid a visit to Fish on the Quay at The Hythe, Maldon, yesterday (August 2).
Renowned for his infamous 'Mallett's Mallet', Timmy is currently cycling around the UK on a painting tour and stopped off at the B&B which was formerly known as The Jolly Sailor.
Dawn Asher, who works at Fish on the Quay, told Nub News she came in on her day off to see the notoriously chaotic TV presenter. The day before, Timmy called Dawn to book a room.
She said: "When I asked his name, he said 'Timmy Mallett', so I said, 'the Timmy Mallett?'
"He replied, 'yes, the Timmy Mallett'.
"I was very struck in awe and excited. I knew he was doing a bike tour around the UK and prayed he would come this way, and he has."
Timmy embarked on his round-Britain tour on March 17 and reached Essex yesterday. So far, his tour has taken him from as far as Land's End to the Scottish Highlands.
The 66-year-old aims to paint a picture every day, documenting his travels in watercolour and sharing them on Twitter.
This morning, Timmy tweeted about his arrival in Tolleshunt D'Arcy. He shared a video standing by the D'Arcy maypole, where he declared there was "nothing more recognisably Essex" than Tiptree's famous Wilkin & Sons jam.
Shortly afterwards, Timmy arrived at Mersea Island, where he painted some houseboats.