Maldon Film Club's John Salisbury on moving to Maldon, making new friends, and his journey with Limebrook u3a
By Brian Harris - Limebrook u3a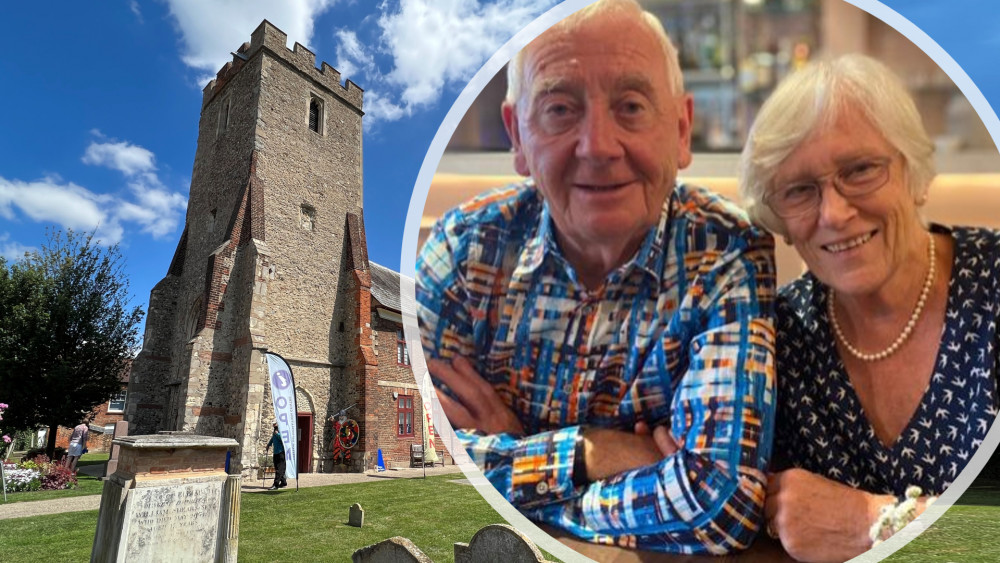 John Salisbury can often be found volunteering at the Maldon Visitor Information Centre in the High Street.
John Salisbury, a Limebrook u3a member and Publicity Officer for Maldon Film Club, tells Nub News he has "no regrets" about moving to the town with his wife, Jennifer, after u3a helped them make new friends.
"My career in education was based in North London, including being the Head Teacher for 18 years of a school with more than 1,500 students. After my first 'retirement', a period of four years followed as an Education Consultant that took me to my second retirement.
"Our son, Matthew, was then living in Dublin with his family; our daughter, Jane, had established her business in Maldon and was living in Great Totham. We thought about the next phase of our lives and decided that we needed to be close to Stansted Airport to allow easy access to Matthew. We knew Maldon quite well from our time visiting Jane and eventually after an extensive search found a new home that met our needs, very close to the centre of town.
"Moving in to the area, and not knowing anybody, both Jennifer and I wanted to get to know people quickly and to find people with like-minded interests.
"A neighbour came to see us with a flyer announcing a meeting at the West Maldon Community Centre to discuss forming a new u3a as all of the existing ones in the area were full and had waiting lists.
"We went to the meeting together where we met Paul and Jo Madge, Brian Rivers, Chris Stringer, Ellaine Crome and others who formed a Steering Group. With the help of the other u3as in the area Limebrook u3a was formed and the first AGM was in April 2012. I was elected to the committee and shortly afterwards took on the role of Vice Chairman on the understanding that I would not become Chairman. At the 2022 AGM I decided to step down from the role, whilst remaining on the Committee.
"The initial Interest Groups were formed and, early on, one of my interests led me to the start a group called 'Spanish for English Holiday-Makers' aimed at helping those wanting to either start or improve their language skills. Once a year, I go to Barcelona for a week to study advanced Spanish to maintain and improve my skills.
"We both joined the Social Science group as soon as it was established and when the person who started the group stood down, I took on the role. The Group has grown in size and become increasingly popular with members.
"Theatre has always been a passion of mine and Limebrook has a thriving Theatre Group that goes to see shows in London and at the Cliffs in Southend. Each year we go to four or five shows and these trips often include a meal either before or after the performances. The coach trip to the venue gives people a chance to chat and it is a day out and a real event that our loyal following enjoy and look forward to.
"During the COVID lockdown, Limebrook u3a ran a 'Keeping in Touch' project. By seeing people, delivering newsletters, setting up Zoom meetings, email and telephone, we were able to maintain vital contact with our friends and members. In fact, Limebrook's membership is now higher than before March 2020 and there are more active people involved than ever before. This is a remarkable achievement.
"Several times a year, the Social Group arranges trips, a Christmas meal and our Annual Quiz. The social side of Limebrook is a really important part of peoples' lives, especially those who live on their own. With so many interests and activities available there is something for everyone.
"Also, Jennifer is a member of the Music Appreciation Group as well as the Social Sciences and Theatre Groups and together we have made many friends.
"Recently a 10-pin bowling group has been meeting and I am slowly improving my averages.
"Being part of the community was what we both wanted and as well as the u3a I am involved with the Maldon Film Club where we arrange a full range of films at the Maldon Town Hall. As the Publicity Officer, I promote the films and write articles for the Maldon Nub News.
"When the Tourist Information Office closed, I volunteered to help with the Maldon Visitor Information Centre. Recently I took Life Membership at the Essex County Cricket Club and in between all of my activities and interests have found my diary is always full.
"Jennifer and I have no regrets about moving to Maldon and Limebrook u3a is a very important part of our lives. We have been able to meet with like-minded people and share interests and activities and have become good friends with many people.
"We are both very pleased to be part of Limebrook, the friendly u3a, and look forward to playing an active part in its continued growth and success.
"Our next monthly meeting will see Sally Lawrence give her talk entitled Continuity Capers - My Life as a Continuity Announcer and is to be held at the West Maldon Community Centre on Friday 13 January.
"To learn more about Limebrook u3a, our other Interests Groups, or to book a place at the meeting as our Guest, please contact the Membership Secretary Sandra Stubbings on 01621 855158."
Read more