New signing Terrell Egbri 'Taylor-made' for Jammers, as Maldon & Tiptree FC enjoys 1-0 win at home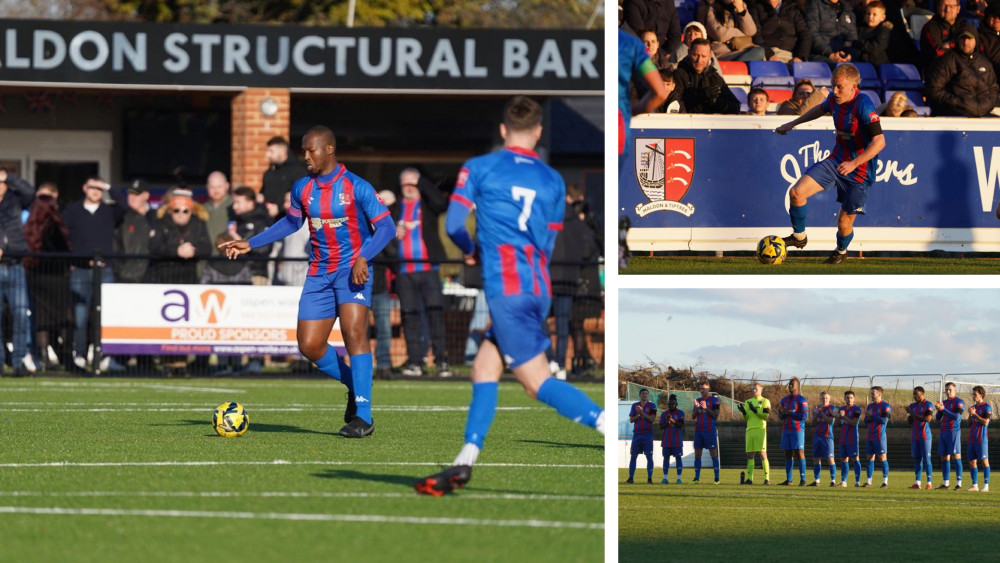 Scott Kemp and new signing Terrell Egbri both started up front against Hullbridge Sports FC. (Photos: Maldon & Tiptree FC)
Fresh from being 'poor guests' and ruining Heybridge Swifts' Boxing Day celebrations, Maldon & Tiptree proved to be just as inhospitable hosts against relegation rivals Hullbridge Sports on Monday (January 2).
For the Jammers, it was the first home game under manager Peter Taylor. There were two changes from the Maldon team that beat Heybridge with the returning Scott Kemp and new signing Terrell Egbri both starting up front.
Maldon started brightly and, after only two minutes, they were rewarded when good play and a cross from Benny Bioletti hit a Hullbridge hand in the box, leaving the referee with little choice but to point to the spot. It was a chance the Jammers couldn't take though, as Kemp's scuffed penalty proved to be a fairly routine save for Hullbridge keeper, Lewis Greene.
That miss didn't dampen the host's good start and on six minutes, good pressing from Harry Phillips on the visiting goalkeeper nearly led to the opener, but he was unlucky to see the clearance cannon off his back and away for a goal kick.
A minute later, though, Hullbridge stirred and nearly took the lead when striker, George Smith drove forward, letting fly a rasping effort that drew a fantastic save from Maldon keeper, Tommy Dixon-Hodge, who reached high into his top right corner to push the ball away.
The Jammers continued to look dangerous going forward, and after Phillips tested the Hullbridge keeper, Maldon got the breakthrough their positive start had deserved. On 16 minutes, Egbri got his debut goal. Cutting in on the left hand side, he hit a well placed shot that beat the Hullbridge keeper at his near post from the edge of the box.
A minute later, it was nearly two as smart play from Egbri again - this time on the Jammers' right - created an opening for Kemp, but the Jammers captain couldn't quite get the ball under control and Hullbridge survived.
Maldon were looking good value for their lead, and although they perhaps could've been better in possession at times, the new manager will have seen reasons to be cheerful in the opening stages.
Maldons cheeriness was only preserved, however, by an absolutely astonishing point blank save from Dixon-Hodge on 21 minutes. A cross from the Hullbridge left hand side found the head of Smith about three yards out. In the week when clips of Pele's header against England in 1970 have been played time and again, it was Dixon-Hodge who had his very own Gordon Banks moment as he raced across the face of his goal and spread himself in mid-air to keep the ball out.
Undeterred, Maldon went in search of a second goal and their play was proving to be a handful for the Hullbridge back line.
The chances continued to come for the hosts before halftime, with a Kemp effort being gathered by the goalkeeper after good work from that man Terrell again. Left back, Peter Mokwenye, continued his impressive start for the club and had an effort saved before Harry Phillips forced Greene to fly away to his left to make the save.
Half time came with Maldon 1-0 up, most of the crowd wondering howe it was not more.
The second half bought more of the same. Terrell was having an impressive impact on debut and it was his pressing again that created an opening straight from kick off. His hassling the fullback allowed an overlapping Bioletti to get a cross into the box. It was picked up by Kemp, who laid it off to an incoming Kacy Parrish, but his effort just cleared the bar.
On the hour mark, Greene produced a smart save at his near post to deny Parrish and keep the game alive. Chances were proving to be difficult to come by for Hullbridge and Maldon back line were looking solid and resolute.
The game was nearly up on 72 minutes when good work from Jammers sub, Lesley Duru (on for Mokwenye) allowed him to get the cross in. The Hullbridge defender got his head to it, but put it just the wrong side of his own post from a Jammers' perspective.
With the game seemingly drifting away, the visitors set about trying to make the last minute as uncomfortable as possible but while they had a few corners and free kicks in dangerous areas, the Jammers showed some real New Year's resolution to secure the win and clean sheet.
Peter Taylor's second game in charge ended in a second 1-0 win and, with other results, Maldon pushed up to 14th in the league. It is out of the relegation places for the first time since the second game of the season.
Next up for the Jammers is an away trip to Tilbury this Saturday (January 7).