Captain Scott secures The Jammers a point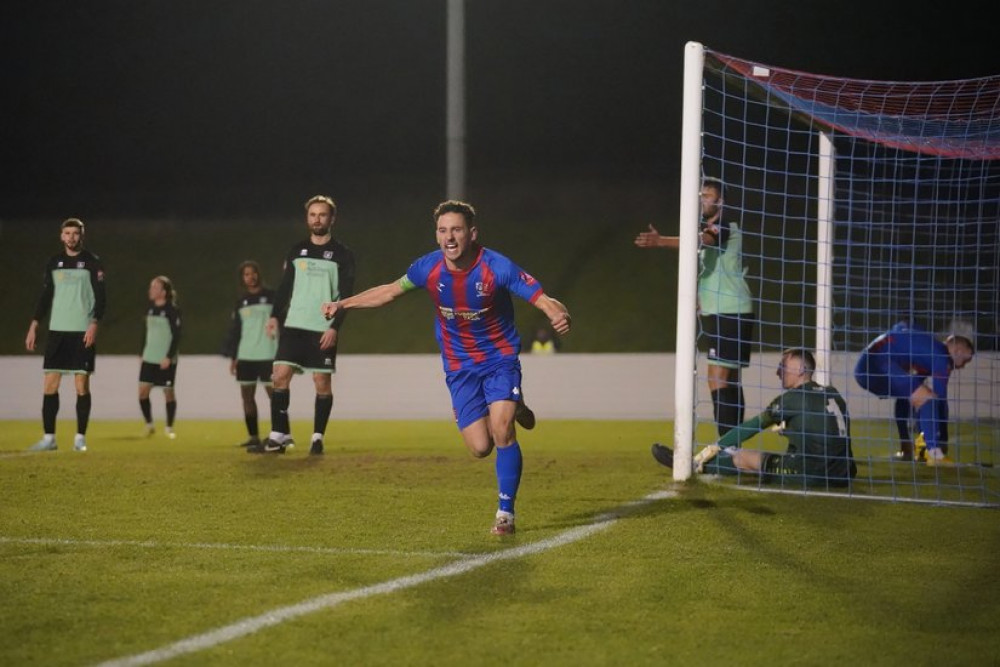 Jammers boss Peter Taylor made two changes from the weekend ahead of Maldon's match against Wroxham.
Maldon & Tiptree 1 - Wroxham 1
The Jammers, fresh from their come-from-behind win against East Thurrock on Saturday welcomed the visitors from Wroxham knowing a win would lift Maldon above their opponents into 12th place in the league.
Jammers boss Peter Taylor made two changes from the weekend, with Kojo Awotwi coming in for Micheal Finneran on the right side of the back three and Sam Coombes replacing Kacy Parish in the centre of midfield.
In truth, the game took a while to get going as both sides struggled to impose themselves on the game. It was Wroxham who caused the first scare of the night, when a long ball forward beat the Maldon offside trap. Fortunately, the Jammers survived unscathed as the ball pinballed around the box before going wide for a goal kick.
Gradually, Maldon worked their way into the game, with Terrell Egbri firing over the bar on 12 minutes after good combination play from Peter Mokwenye and Scott Kemp down the left hand side, something that has become a theme over the past few weeks.
There was a let off for the Jammers on the quarter hour mark when Wroxham's Brad Spooner found space a couple of yards out. His flicked shot goalwards was well saved by Tommy Dixon-Hodge, at point blank range, and he got the luck he deserved when the rebound bounced off Spooner and away for a goal kick.
Egbri continued to hassle the Wroxham back line, forcing a corner from which Kemp shot wide after teeing himself up for a volley. A shot into the side netting from George Smith followed. Just as it looked as if the hosts were starting to get a foothold on the game, they were made to pay for lax defending on 26 minutes. A dubiously awarded freekick was taken quickly to Wroxham's Conley Poynter who was free at the back post. His pass found Spooner who fired home on the turn to put the visitors 1-0 up.
Given the events of Saturdays game, this wasn't an unfamiliar situation for Maldon, but it wasn't an ideal one either. Things nearly got worse 10 minutes later when Ryan Curtis was allowed to run….and run….and run at the Jammers defence before shooting wide. There was another let off just before half-time when Mokwenye, under pressure from a Wroxham player behind him, nearly headed into his own net.
To rub Maldon Sea Salt into the wounds, Saturday's match winner, Danny Nesbitt was forced off before half time, The Jammers then changing to a 4-3-3 formation.
Just before half-time though, the visitors were nearly made to pay for their missed chances. Again, Egbri was involved, playing in Harry Phillips from the right hand side. His shot was dummied by Maldon striker, George Smith, but his shot shaved the wrong side of the post.
Half time: Wroxham 1 - Maldon & Tiptree 0
Half time saw the Jammers trailing 1-0, without recording a single effort on target and Wroxham keeper, Ollie Sutton hadn't been tested at all. A big turnaround was needed in the 2nd half.
Maldon were a different team after the restart. A deflected shot wide from Kojo Awotwi gave Maldon cause for optimism. As ever, Kemp was putting in a monumental shift, covering every blade of grass as he looked to help bring his side level.
The rewards finally came for the Jammers with 25 minutes left to play. And it was a carbon copy of the Wroxham goal earlier in the night. Quick thinking from a freekick allowed Egbri to float a cross over to the back post to a completely unmarked Kemp who headed it past Sutton. Kemp had led from the front and the club captain had his just deserts.
1-1, and game very much on! A much better second half from the Jammers was now on. On 70 minutes, Phillips who again looked impressive, flashed a ball across the face of goal. Unfortunately, there was no-one there to meet it and the scores remained level.
Although luck and a little more quality with the final ball wasn't on Maldon's side they continued to push for a winner. It didn't come and at the end of the game both sides probably looked at the result as being fair.
The result gave Maldon four hard-won points in three days, heading into Saturday's away game against the New Salamis in what's sure to be a meaty fixture (I'll stop now, I promise).
New maldon Jobs Section Launched!!
Vacancies updated hourly!!
Click here: maldon jobs