Award accolade for Maldon Drama Group - and another production is getting closer to curtain up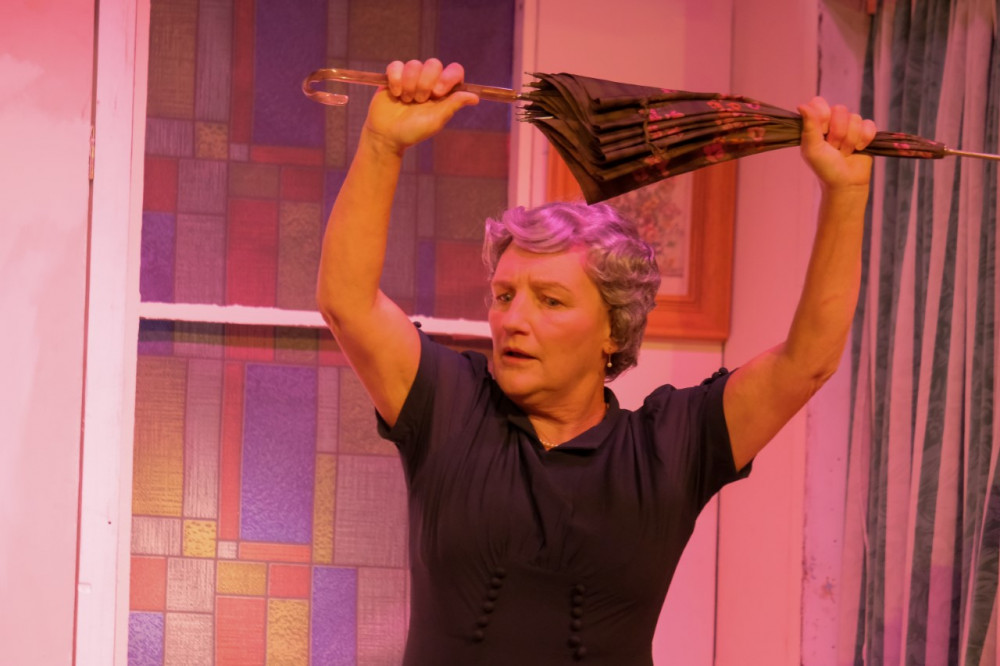 Carey Brown as Mrs Wilberforce 'You shall Not pass'. Picture by David Weller.
Maldon Drama Group are celebrating after a successful evening at the North Essex Theatre Guild Awards night, held earlier this month.
It took place at the Prince's Theatre, Clacton-on-Sea, when theatre groups from across the region came together to celebrate their craft and passion.
Maldon were nominated for The Peter Cox Award for Set Design and Construction, Best Supporting Actor for Connor Smith as Harry Robinson in Ladykillers and The Gill Baxter Award for Best Actress for Carey Brown as Mrs Wilberforce in Ladykillers.
And Carey was successful, taking the honour and prompting this accolade from adjudicator Maggi Fisher: "This was a very impressive performance from Carey, she really inhabited the role both physically and vocally."
Carey said: "My thoughts are very much that the award is an honour for the whole group, we work so well together and a great director and cast make all the difference!"
As reported recently on Maldon Nub News The company is currently rehearsing for 'One Man, Two Guvnors' which will be staged at Maldon Town Hall on 13, 14, and 15 October.
Rehearsals are going well now, with less than four weeks to go! And tickets are selling well, the set is coming together and the final touches are being put to the props and costumes.
Scott Peters plays the leading role of Francis Henshall, with Carey as his 'love interest' Dolly and the play also features, among others, Neil Fisher as Stanley Stubbers, Ghislaine Davis as Roscoe/Rachel, Heather Lucas as Pauline and, new to the group Alex Owers as Alan.
Anyone wishing to join the drama group can find them on Facebook, Twitter or through their website www.maldondrama.org.uk, speak to the front of house team at the performance or just come along on a Wednesday evening 7.30 to 10pm at Maldon Town Hall.
Tickets for One Man, Two Guvnors are available online via this link or by calling the secretary on 07928 403991.