Limebrook u3a's July Newsletter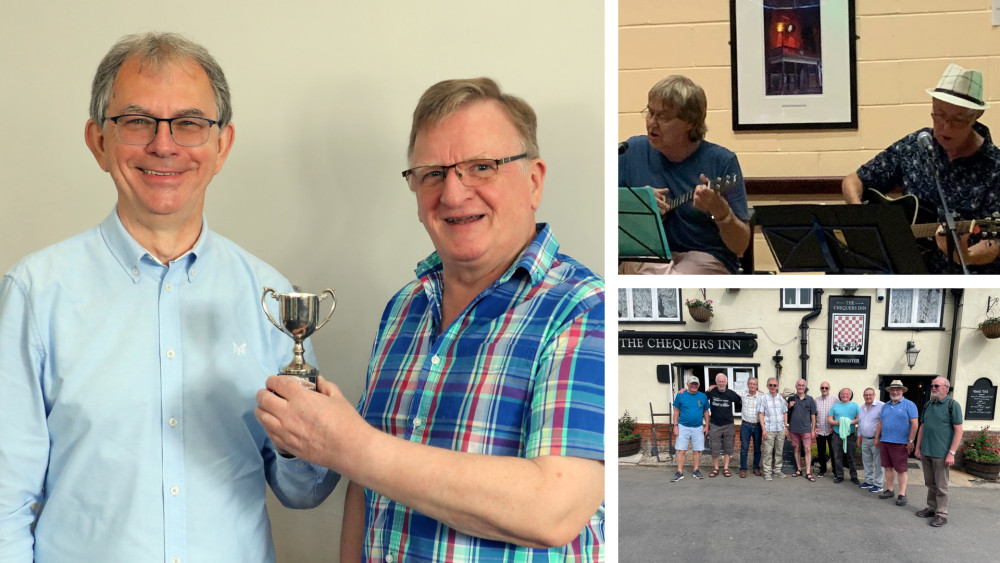 Brian Harris from Limebrook u3a gives you the rundown of all the activities which took place last month.
Brian Harris, from Maldon's Limebrook u3a, shares all the news from the group in this month's newsletter.
"Limebrook u3a celebrated its 10th Anniversary with a Social Evening at the WMCC. We were treated to live music by two of our members, Tim Stubbings and Melvyn Smith, followed by a fish and chip supper. The evening ended with dancing to music from the 50s, 60s and 70s.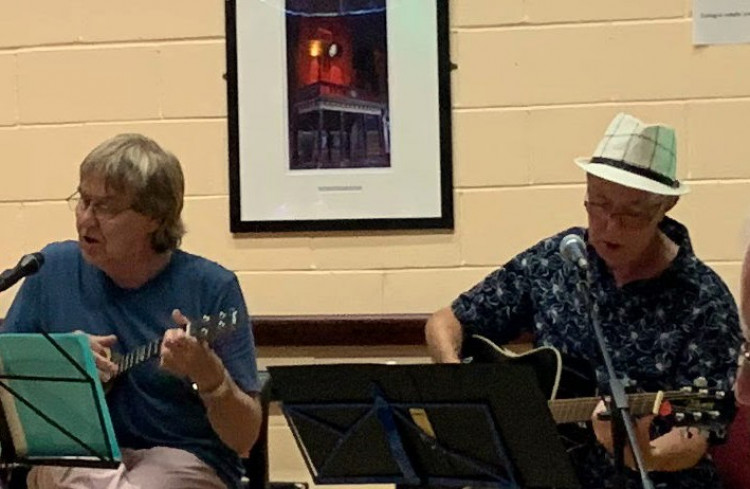 Tim Stubbings and Melvyn Smith perform at the WMCC.
"Liz Jones organises the Poetry Group and this lively and friendly group enjoy reading and discussing poems of their choice centred around a theme each month. The poems can be from the past centuries or be very modern. They meet in Maldon at the OAKhouse and are open to new members.
"Mike Stringer reports that the Real Ale Group (RAG to those in the know) has soldiered on during Covid but is grateful to finally be able to venture out into the world. The latest trip saw the group journey out by bus to the Chequers at Goldhanger. We think this was possibly the first venue the group went to when it was initially formed. They had some lovely food and beer; service was excellent and a good time was had by all. They had two new members along for the trip, both joining our u3a as recently as the weekend before. It was nice to see some new faces to add to the little gang of Raggies, as they call themselves. Future trips will include Colchester, Harwich, South Woodham Ferrers and Maldon.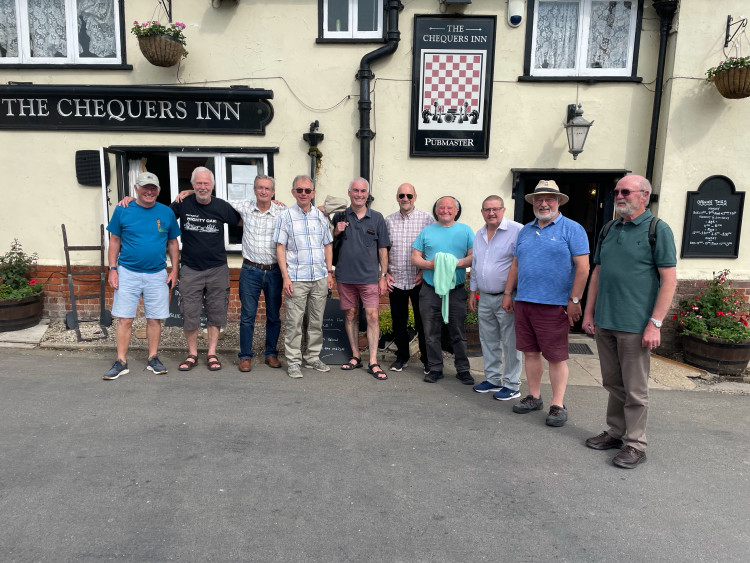 The Real Ale Group (AKA RAG).
"Graham Churchill held the Photography meeting at the URC Hall. The meeting started with a slide show of images based on the theme of "Animals or Birds." There were some excellent images which were mostly taken at the Call of the Wild Zoo located in South Woodham Ferrers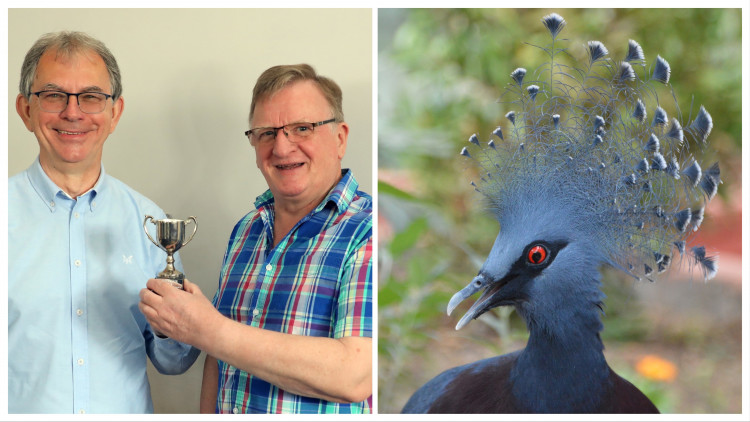 Winner Brian Harris with Howard Corlett.
"The winning photograph was taken by Brian Harris with an image of a very attractive Victoria Crowned Pigeon. Second place went to Tim Stubbings with his image of a parrot.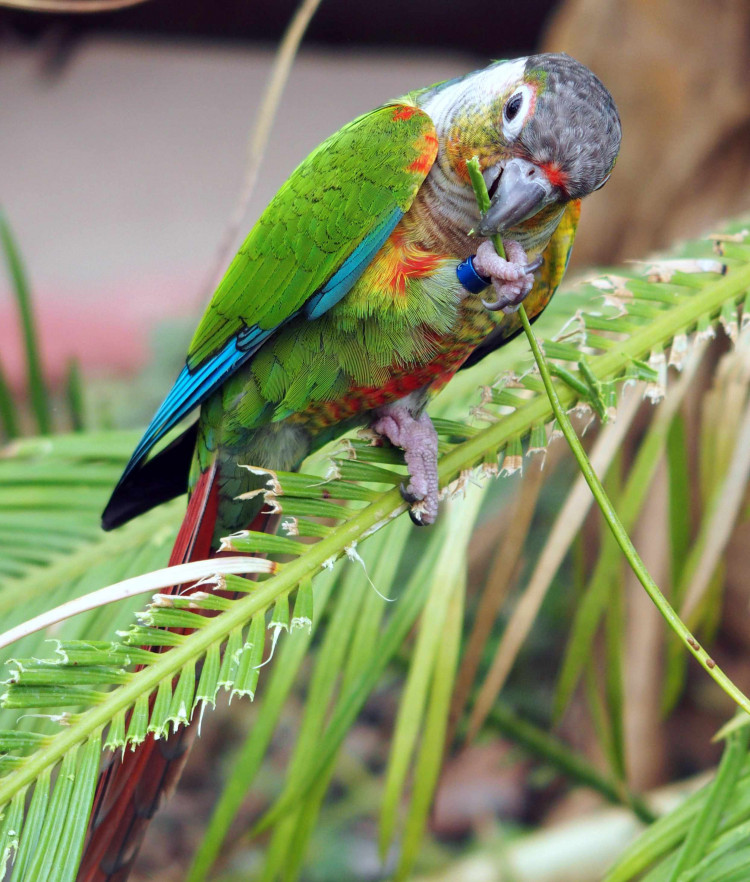 Tim Stubbings' second-place parrot.
"After a short break for tea, coffee and chocolate biscuits, group member Phil Davies gave a short talk on a company called "Timeline events" which organises events for photographers to attend and photograph various staged scenarios. Phil also brought along some excellent examples of photographs he had taken on some of the events he had attended. There was considerable interest in this and I am sure there will be some of the group going along to an event in the not-too-distant future.
"Terry Wood has started a French Conversation Group that has gotten off to a flying start with members brushing up their language skills.
"John Salisbury has arranged a wide range of topics for discussion with the Social Science Group and in July they have John Ord, one of our members, telling us about the vital work done with the Haem project. The aim is to find better blood for patients and improve the outcomes for them.
"On the July 8, our Main Monthly Meeting will be at the WMCC when Alison Charles will give her talk entitled "Diva on a Harley"
"Most of our groups meet throughout the summer, although we do not have a monthly meeting in August. On the 9th of September we shall have Bob Jones tell us about his life as a paramedic. Its not all blood and tears – there are plenty of lighter moments too.
"Whether you enjoy trips and outings, or less active pastimes such as Social Science, Family History, French Conversation, Poetry, Needlecraft, and many more, there is a lot to choose from!
"Find out more about Limebrook u3a by visiting the website.
"Whether you enjoy trips and outings, or less active pastimes, why not find out more about Limebrook u3a?
"Our Membership Secretary Team of Tim and Sandra Stubbings can be contacted on 01621 8555158. They will be pleased to invite you as a guest to one of our meetings. You could then meet us and see why Limebrook is such a friendly place for people who wish to Learn, Laugh and Live. "