Fantasia Maldon 2022 Review: Wet Wet Wet indeed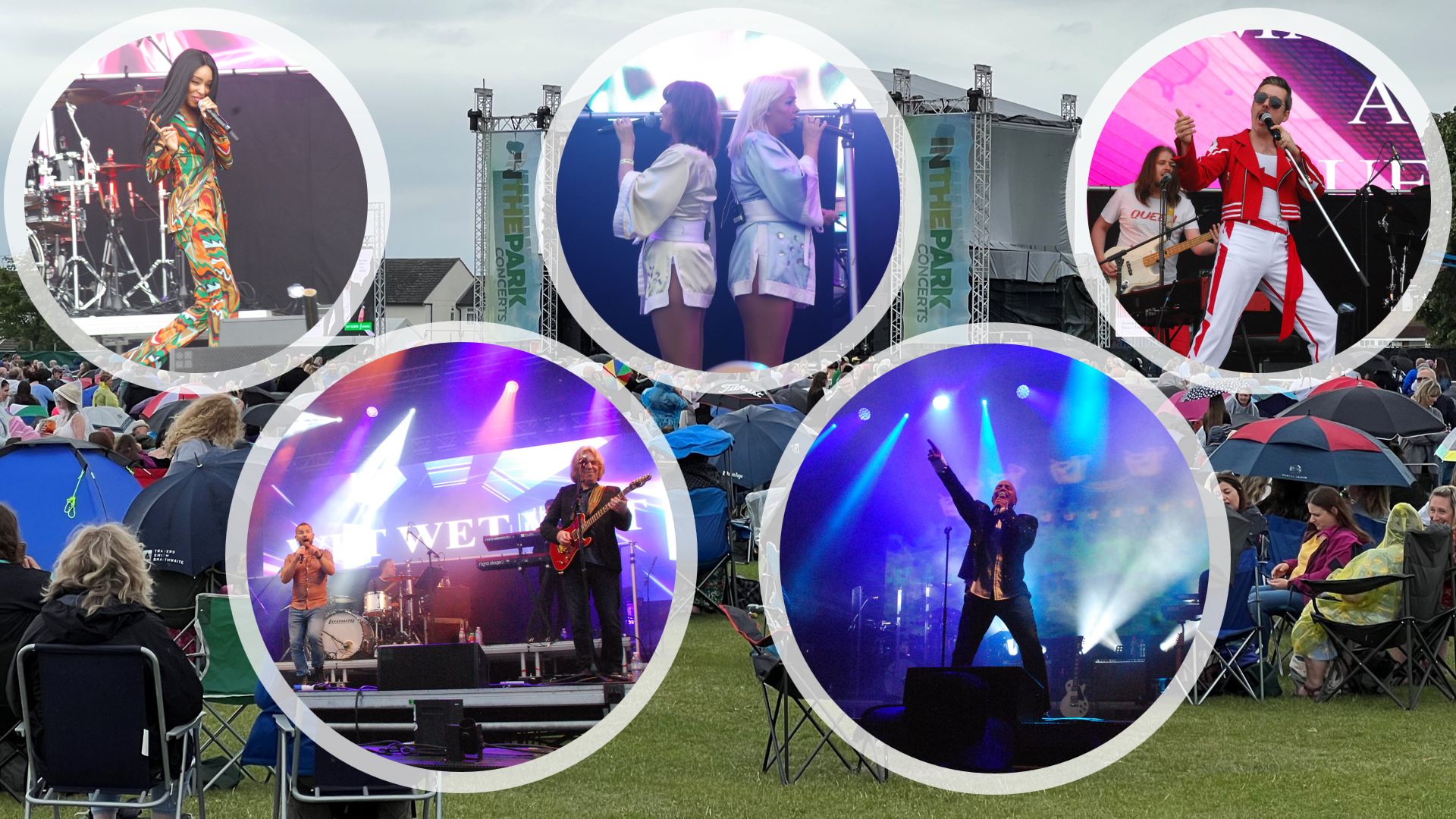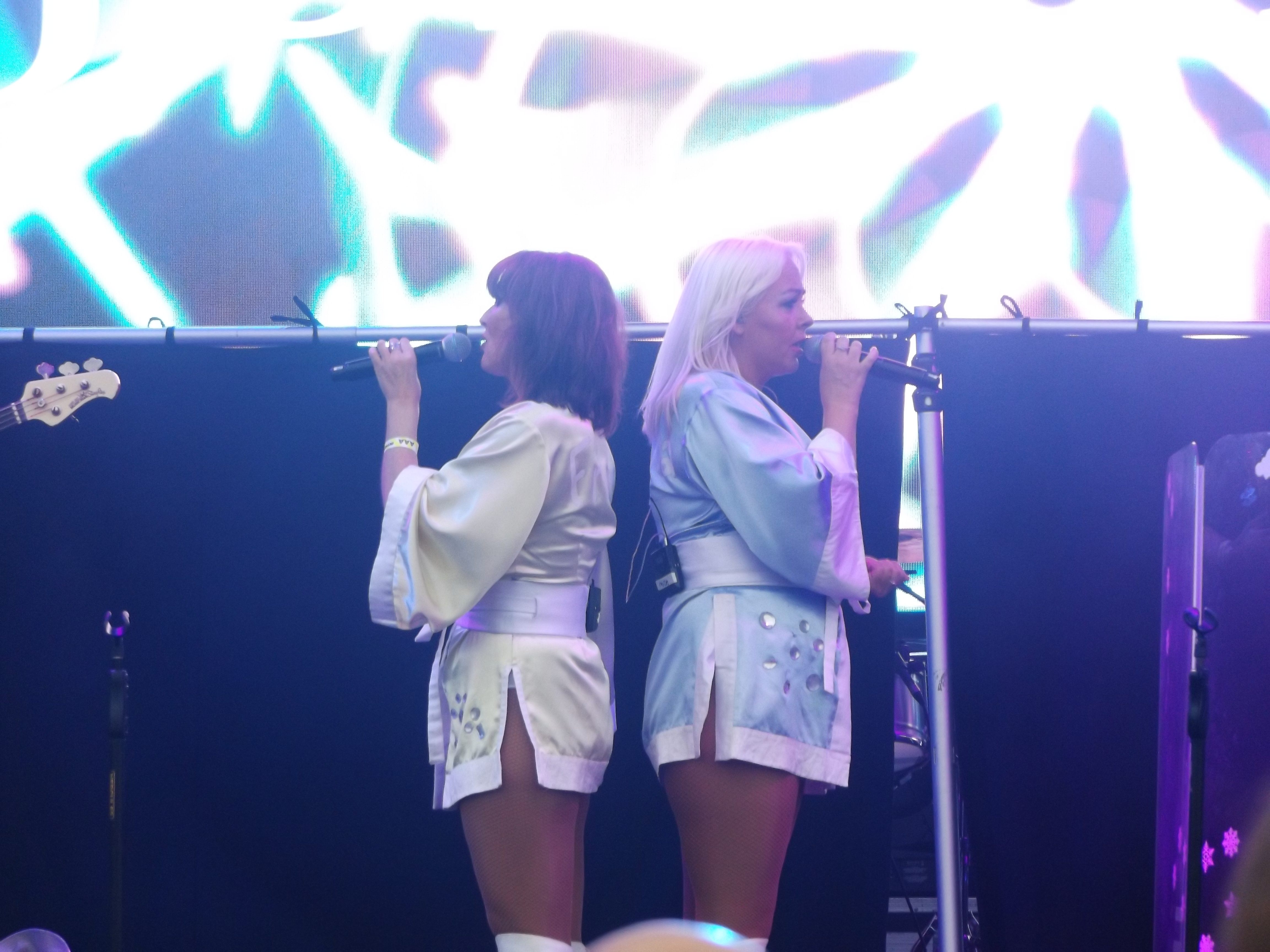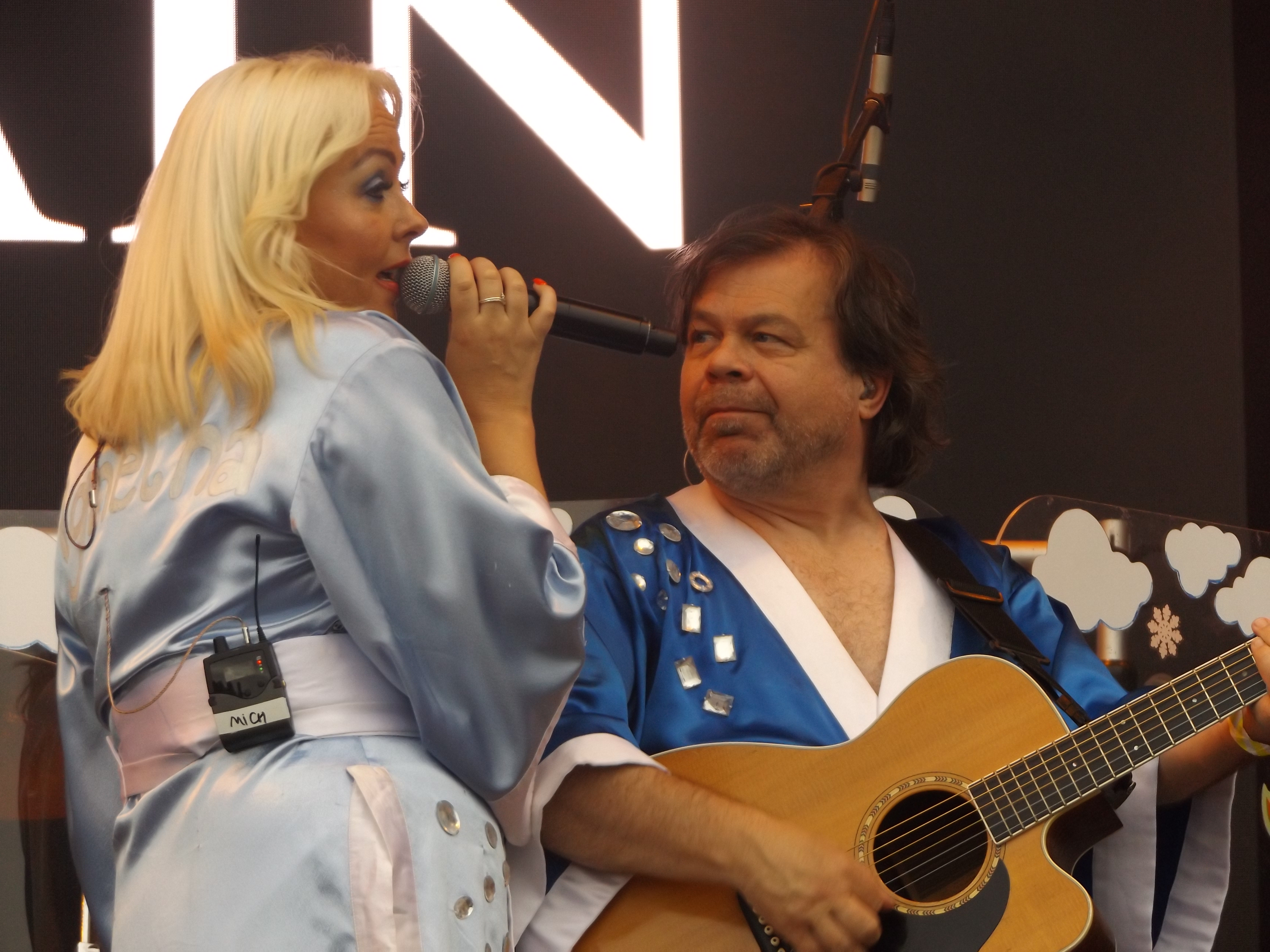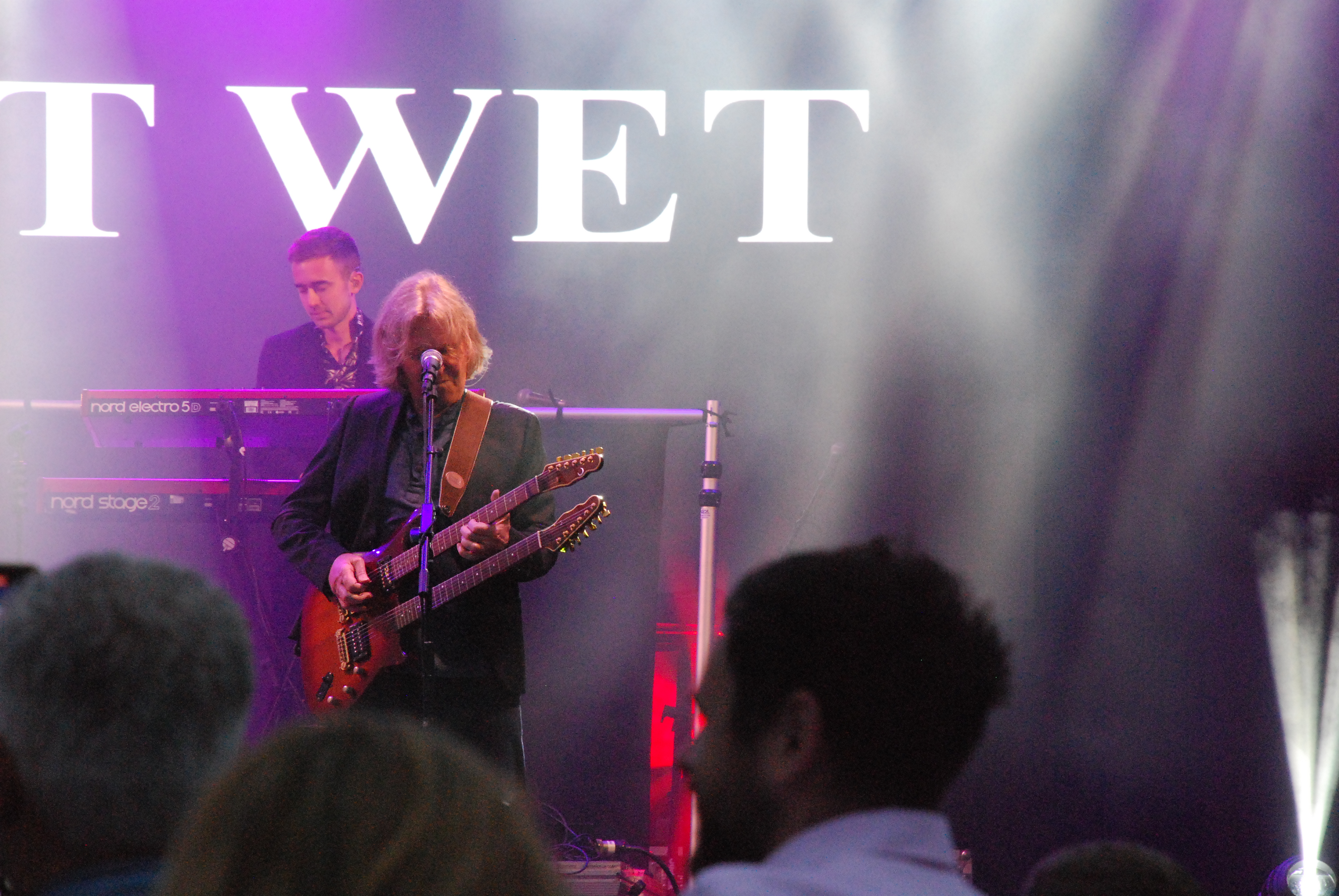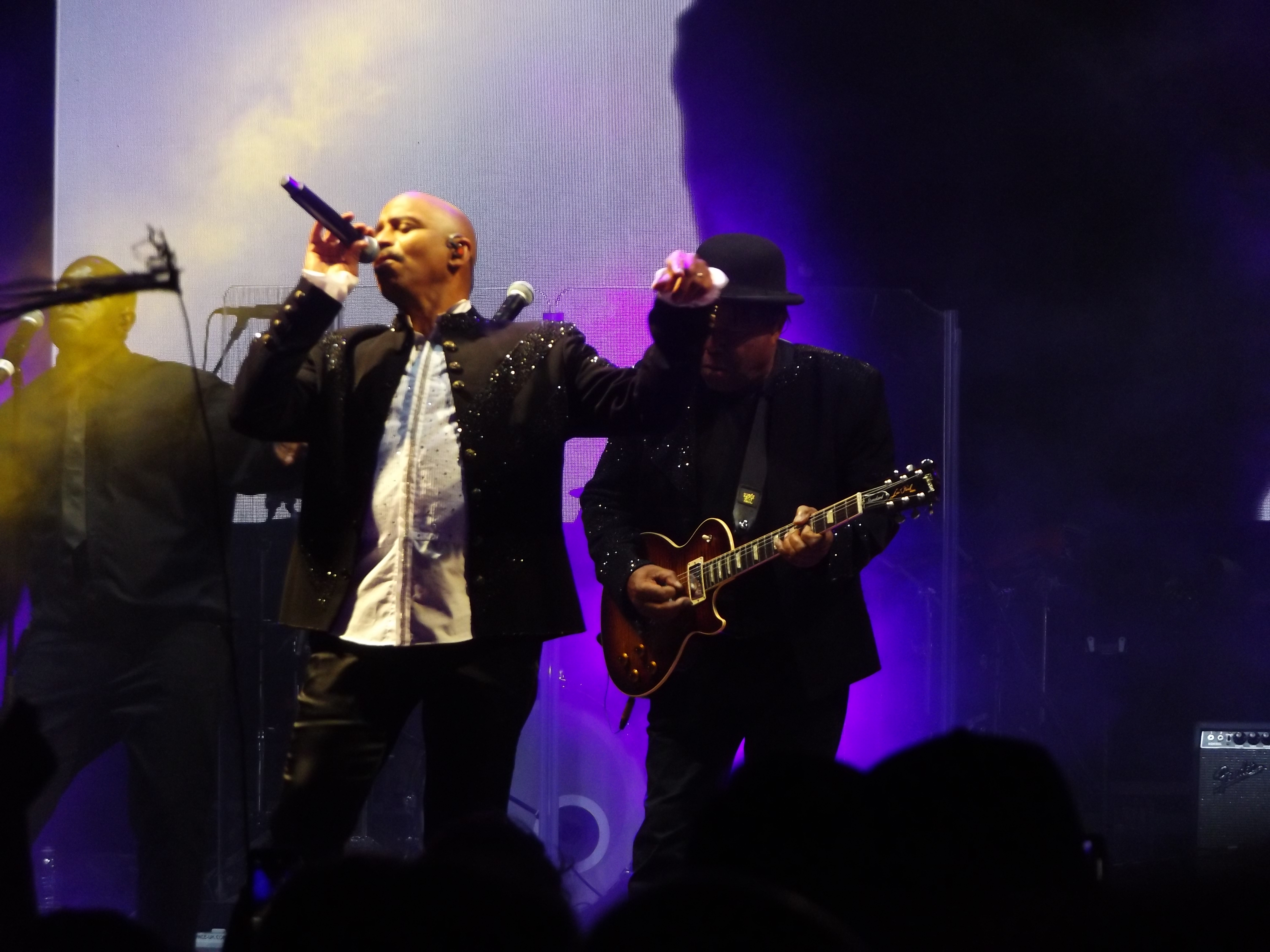 The occasional drizzle certainly didn't dampen any spirits at this pop, funk fantasy of a festival last Saturday.
If you were to look at the foreboding grey skies above, you could be forgiven for wondering if we were even in the same country compared to the clear blue of 24 hours before.
Local choir Funky Voices were first up, a 70-strong group who recently performed with Erasure, to kick off proceedings.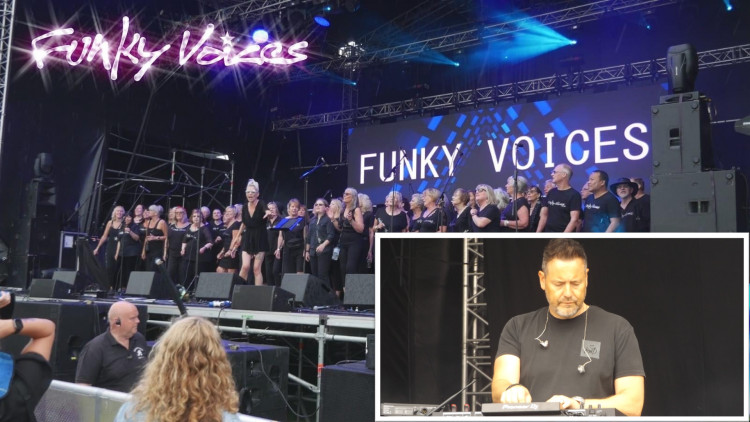 Funky Voices were first on the bill, inset: Radio Essex DJ Chris Brooks (Photos: In the Park Concerts and Ben Shahrabi)
Radio Essex DJ Chris Brooks played 90s favourites from 5ive (featuring his colleague Scott Robinson) and the Black Eyed Peas, before the next act.
Early noughties pop star Sabrina Washington warmed up the crowd with a medley of Mis-Teeq's best-known hits. Together with Su-Elise Nash and Britain's Got Talent judge Alesha Dixon, Mis-Teeq had two top-ten albums and seven consecutive top-ten singles, before the group split in 2005.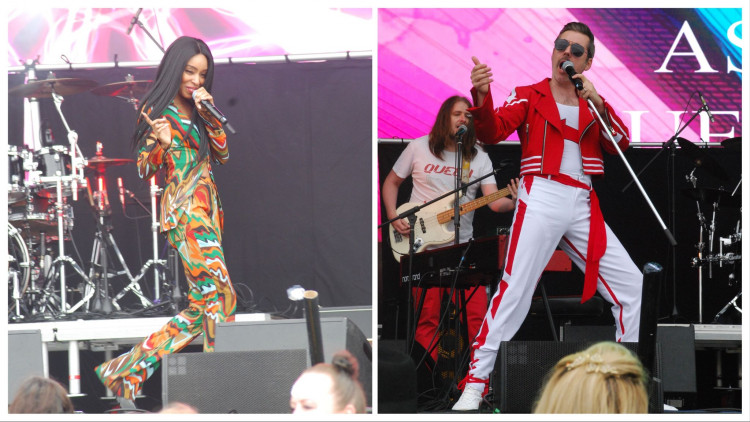 Sabrina Washington, and Rob Lea as Freddie Mercury (Photos: Bob Cross)
Rob Lea gave a stellar performance with Majesty as Queen. His Freddie Mercury tribute came complete with an authentic moustache, and a tracksuit vaguely resembling the ones the real Freddie wore during the 80s.
Within seconds, he'd stirred the crowd up into a frenzy, almost as if the real Freddie had turned up for a surprise performance.
Lea's voice was phenomenal, as was the musicianship of his band mates. "Brian May's" wig, however, was questionable to say the least.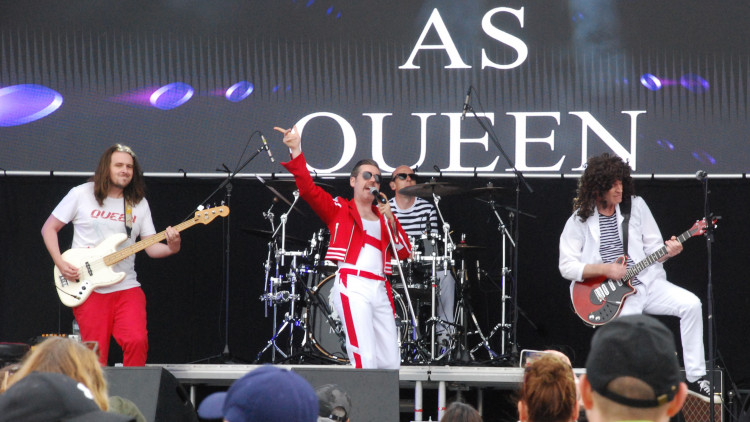 Rob Lea gave a stellar performance with Majesty as Queen (Photo: Bob Cross)
A slight technical hiccup when his keyboard stopped working meant Lea had to improvise during 'Bohemian Rhapsody', which he carried off seamlessly.
'Radio Ga Ga' had virtually everyone clapping along with their arms in the air.
Throughout the weekend, various artists have asked the audience to "put your hands in the air" to varying degrees of success. But nothing was guaranteed to get the crowd involved more than 'Radio Ga Ga'. This handclapping showstopper took the energy of a field of soggy concertgoers to the max.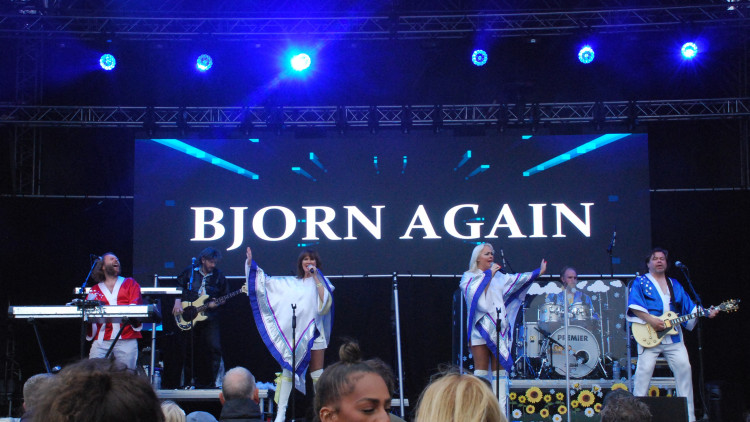 Bjorn Again was a refreshing take on a well-loved band (Photo: Bob Cross)
Majesty was a tough act to follow, but Bjorn Again (an ABBA tribute act) were up to the task. They sounded uncannily like the Swedish songbirds themselves, even down to their faux Swedish accents in between songs. However, 'Waterloo' soon became Waterlogged when the heavens opened above the audience.
Complete with giant prop phones and a rap interlude during 'Take a Chance on Me', Bjorn Again was a refreshing take on a well-loved band.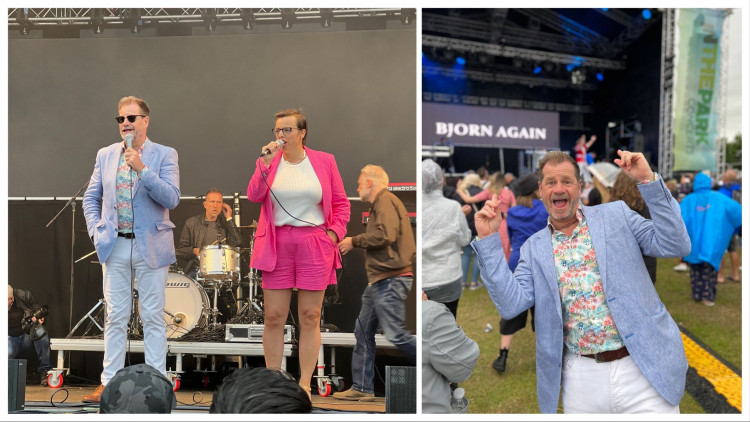 Martin and Su, the radio best known for hosting breakfast shows together for the last 20 years, kept the crowd company while we waited for the next act to get set up (Photos: Ben Shahrabi)
The irony was certainly not wasted on those wearing soggy plastic macs when Wet Wet Wet stepped on to the stage. Original members Graeme Clark and Graeme Duffin were joined by relative newcomer Kevin Simm (from the band Liberty X) who delivered a performance true to the band's sound.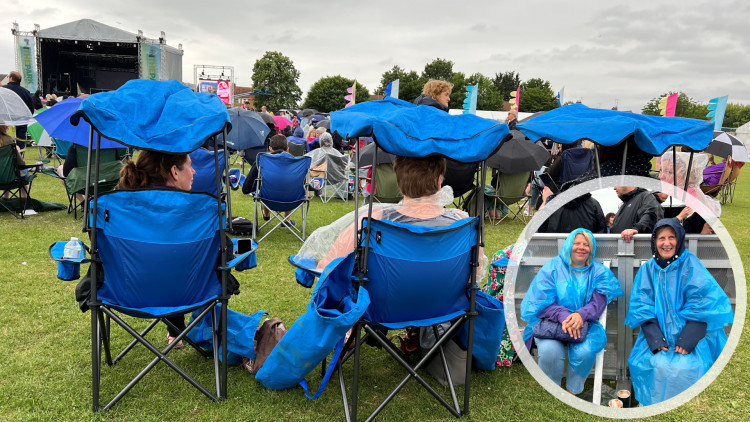 Some concertgoers took preparation to the max, with umbrella chairs and plastic macs (Photos: Ben Shahrabi)
They performed hits including 'Angel Eyes', 'Sweet Little Mystery', and their 1994 cover of The Troggs' 'Love is all Around' which spent 15 weeks at number one. Bassist Graeme Clark joked it felt like 'forever'.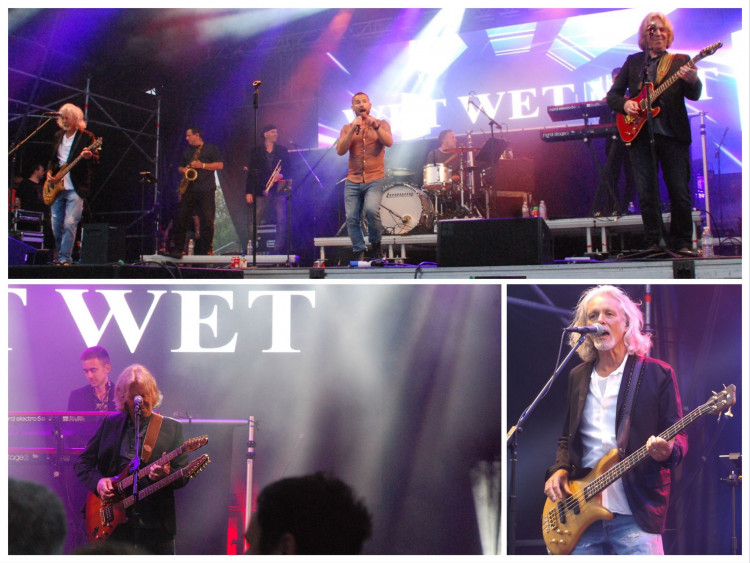 Former Liberty X member Kevin Simm joined Wet Wet Wet in 2018 (Photos: Bob Cross and Ben Shahrabi)
Top of the bill, of course, was The Jacksons. Or rather, two of them. Big brother Jackie Jackson was apparently unwell and unable to join Tito and Marlon onstage.
However, Marlon had enough energy to make up for all five.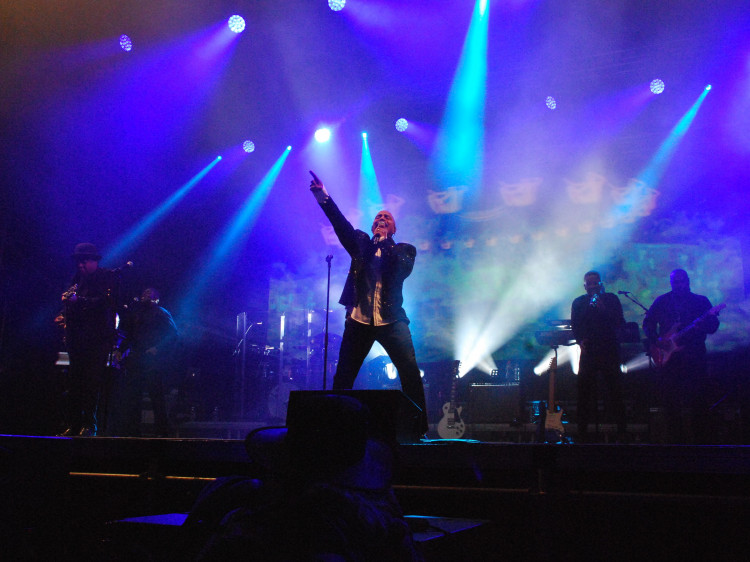 Marlon Jackson's enthusiastic performance lifted the crowd's energy even higher (Photo: Bob Cross)
At 65, Marlon Jackson moved like a man less than half his age and had no trouble keeping up with his much younger backing singers.
Their dance moves were flawless, and very much of the Jackson 'style'.
The band started off with a medley of some of their best-loved songs, before going through their back catalogue, and even performing Michael Jackson's solo hit 'Rock With You'. Later, Tito sang his 2021 single 'Love One Another', on which he collaborated with a slew of music legends, including Stevie Wonder.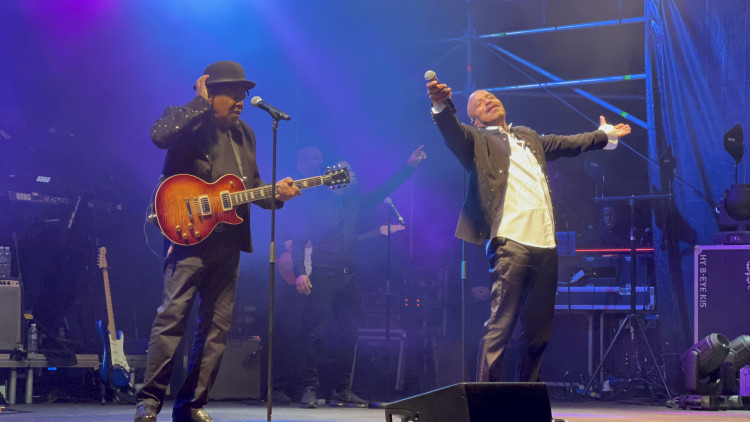 Tito sang his 2021 solo single 'Love One Another' (Photo: Ben Shahrabi)
Unfortunately, time waits for no one, so The Jacksons soon left to rapturous applause. With their roster of hugely popular hits, you were guaranteed to enjoy yourself.
As a grand finale, the evening ended with fireworks. Just moments later, however, they were outshone by electric blue flashes as the crowd raced to the exit in an attempt to avoid the torrential downpour.
Perhaps Majesty as Queen should have gone last, as thunderbolts and lightning were very, very frightening indeed. Thousands of drenched concertgoers had to race back to their cars, taxis or to the shuttle bus.
Still, it's not as if we could blame it on the moonlight.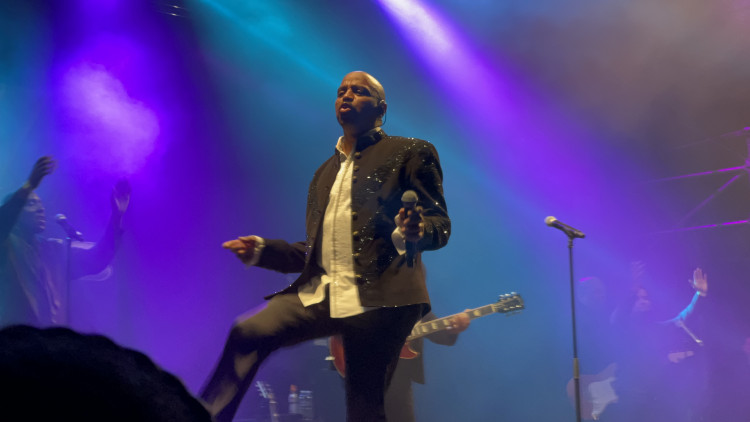 Marlon Jackson was unquestionably a 'Dancing Machine' (Photo: Ben Shahrabi)
Check out Maldon Nub News' review of last Friday's Soultasia in Promenade Park.
Like and follow Maldon Nub News on Facebook and Twitter for news, live updates and events near you.