Maldon Town Hall quiz raises over £700 to help restore historic Steam Tug Brent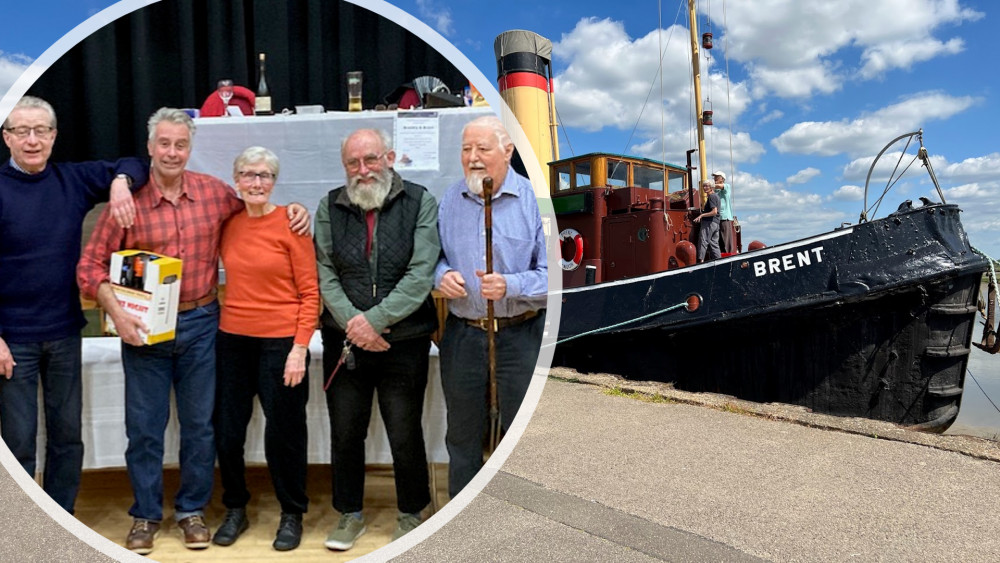 'The Maldon Morons' (inset) beat 10 other teams to emerge victorious - make of that what you will. (Photos: Mark Heard and Ben Shahrabi)
The Steam Tug Brent, a familiar landmark at Maldon's Hythe Quay since 1970, has received a £726 funding boost thanks to a local quiz night.
On Friday 24 February, a charity quiz night was held at Maldon Town Hall, led by the Deputy Town Mayor, Councillor Mark Heard.
Janet Hall, Chairman of the Steam Tug Brent Trust Fund, welcomed eleven teams who battled it out to reach the maximum 110 points on offer. They faced a hundred general knowledge questions, ranging from topics such as ships, films, dogs, food, royalty, the USA, to 2022 events.
Teams were made up of friends, as well as competitors from several local organisations, including Maldon Drama Group, a team of wedding planners, and a group calling themselves 'The Shipwrecks' who managed to achieve the lowest (but still respectable) score of 68 points.
Another team, called 'The No Brainers', scored high with 90 points, but it was 'The Maldon Morons' who claimed victory, scoring a "magnificent" 93 points. They won a half-case of wine. The evening was then topped with a raffle, with prizes donated by local residents and businesses.
The historic TID-class tugboat 'Brent' was built in Sunderland in 1945 and is a working example of Britain's maritime heritage. It is the last surviving steam vessel of the Port of London authority's Fleet.
By 1946, almost 200 tugs had been built, many which were once in use on the River Thames and at the London Docks. Brent (then known as TID-159) is also one of only three of its kind left of the 182 built for the navy as part of the war effort.
The trust aims to maintain the engineering and seafaring skills of the past by restoring and operating the boat. It also hopes to preserve and display her for the benefit of the public.
Last Saturday, Councillor Mark Heard told Nub News he will not be standing in the upcoming local elections, as he is set to move out of the Maldon District.
Read more
New maldon Jobs Section Launched!!
Vacancies updated hourly!!
Click here: maldon jobs