Plea to give gritters time and space as cold snap hits Maldon District this week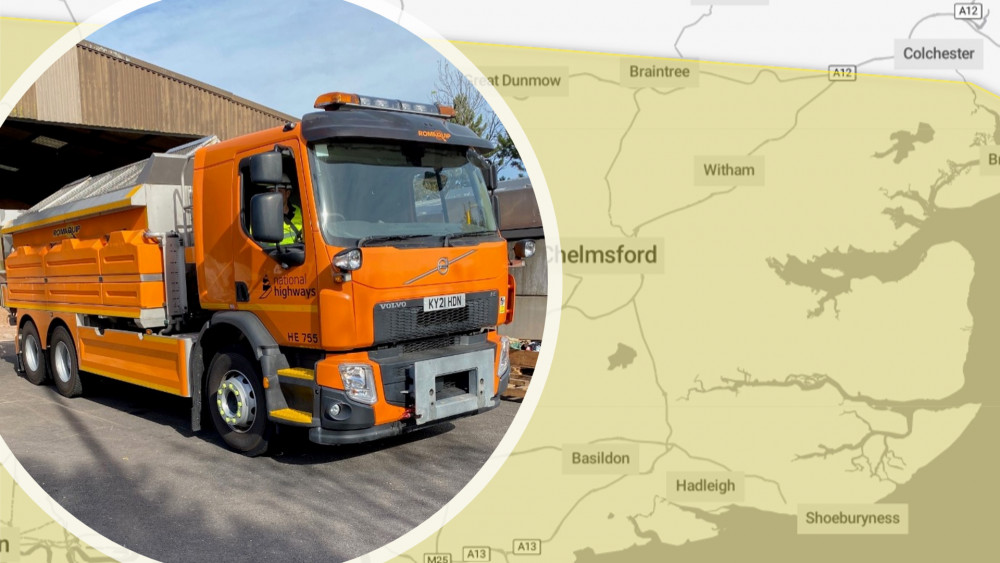 In a recent National Highways survey, while nearly three quarters of people said they take extra care when overtaking a truck, thirty-six per cent admitted feeling nervous when doing so. (Images: National Highways and Met Office)
With a Met Office yellow weather warning for snow and ice in place over the Maldon District until Thursday (March 9), National Highways is urging motorists to be considerate towards gritters.
National Highways manages 4,500 miles of A-roads and motorways and can call upon around 530 gritters in extreme weather conditions.
Darren Clark, Severe Weather Resilience Manager at National Highways, said: "As our gritting teams go out to spread salt on the roads, our message is simple to all road users: 'Please be patient and give us the time and space to do what we need to do to keep you safe.
"If you are going to pass us, please do so courteously, pass us safely and legally, or even better, if you are able to stay back, you will actually help the salt on the road activate even more quickly by crushing and breaking it into the road surface which benefits everyone.
"It's worth remembering too, we are not gritting all the time. Some of our fleet may come off at particular junctions or return to depots while other vehicles take over, lowering any inconvenience to motorists. We are once again totally committed to working around the clock on these seasonal operations to keep all road users safe and thank everyone in advance for their patience and understanding."
The message comes with more cold weather and snow forecast this week. The RAC has also issued a warning to motorists who may face problems with their vehicles due to the sudden cold snap.
RAC Breakdown spokesperson Rod Dennis said: "It's vital tyres have plenty of tread as good grip is essential in cold conditions. Any tyres that are well-worn and approaching the legal tread limit should be changed as a matter of urgency.
"We also strongly recommend drivers check their cars' oil and coolant levels and top up if necessary."
Read more