UP CLOSE IN MALDON: The owner of the town's newest shop tells how the pandemic crisis led him to follow a sweeter dream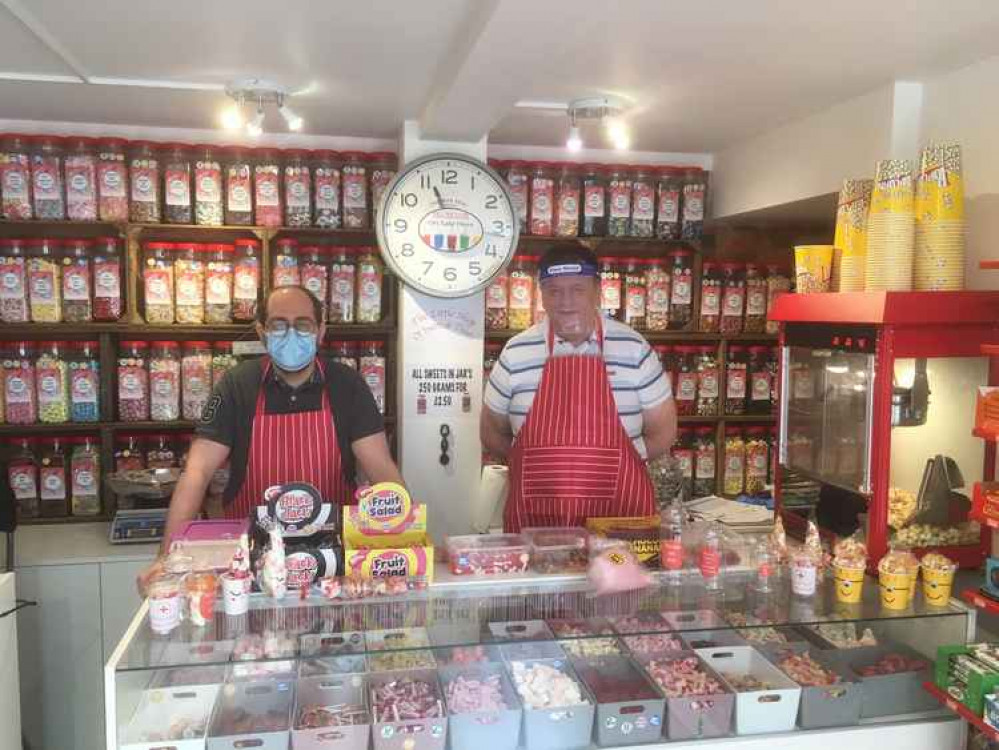 A family concern: Sean and Steve Gillbe at the sweet shop
Maldon Nub News aims to be supportive to EVERY element of the community from business and shops to people and charities and clubs and sports organisations.
Everyone is finding it tough at the moment and wants life to get back to normal.
We will be profiling some of these local businesses and groups regularly over coming weeks in a feature called UP CLOSE IN MALDON in the hope that we can be a supportive springboard for your full return to business as usual. This week we talk to Steve Gillbe, owner of the town's newest shop, The Little Shop of Sweets and Treats at the King's Centre in Maldon town centre. During an in-depth Q and A session Steve reveals why he set up business in Maldon as well as what he loves about the town's community and his gratitude for its support during the current crisis. To some it could seem like a strange time to open your first shop, but Steve Gillbe and his family felt ready for the challenge.
Steve, 55, used to work in the exhibition industry building stands until the Covid-19 pandemic hit.
He tells Maldon Nub News: "The push to do something else came out of Covid. As you can imagine, the exhibition field has completely stopped.
"But we as a family always wanted to get our own little shop. We used to come to Maldon for days out and have always liked it and we thought a sweet shop of the old-fashioned type would fit in with the town nicely."
When this year started to become increasingly difficult for the family, with son Sean, 29, also looking a job in a climate that has limited opportunities, they decided to work together on making their sweet shop dream come true.
An internet search led them to the little shop at the King's Head Centre that used to be occupied by gift shop Coast and Country, facing the courtyard off of the High Street.
Steve adds: "It seemed the right location with all the history that goes with the building and it looked to be a good choice.
"Maldon has such a great town centre with all the independent shops. It feels like a proper High Street with something different and interesting to offer.
"We took our savings and have taken a jump and we hope we make a good fit in Maldon. It is such a nice place to work and the community is wonderful. We have all ages coming into the shop and everyone is so nice and the children who come in are so well behaved. It couldn't be a better place to have the shop."
Steve's wife Jane, 55, works in the sweet shop, too - when she's not at her job as an NHS carer, which she's been for around 12 years. Even their daughter Fay, 26, who works as a teacher likes to help out in her spare time.
The array of prettily-coloured sweets in jars, as well as an extensive selection of different treats, is hard to resist. And Steve is keen for customers to let him know if they can't find what they want so he can look into finding different products.
The Little Shop of Sweets and Treats has bought the stock left by Coast and Country, so currently has a good selection of gifts, too. The family will review the success of those to see whether an even bigger selection of sweets could be the way forward.
The excitement and enthusiasm of this determined family is easy to see – they have taken the difficult situation presented by the pandemic and turned it round to try for their dream.
New maldon Jobs Section Launched!!
Vacancies updated hourly!!
Click here: maldon jobs