Dull afternoon as Jammers drop points
---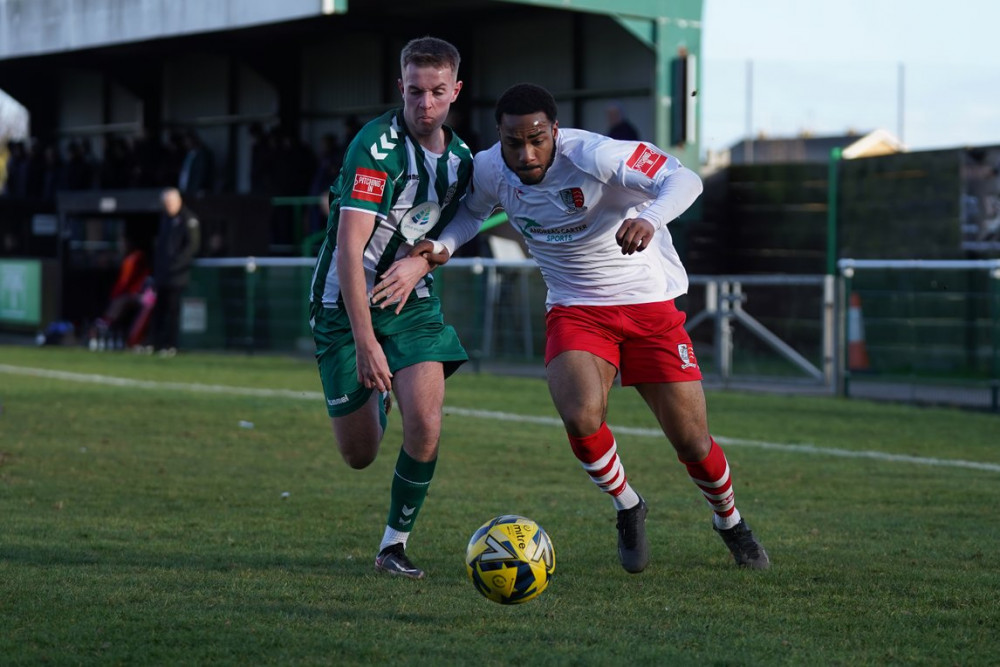 Jammers at Great Wakering.
Great Wakering Rovers 0, Maldon &Tiptree 0
Maldon & Tiptree dropped two vital Isthmian North points in their battle to stay clear of the bottom four on Saturday afternoon (25 February) at Burroughs Park against bottom of the league Rovers.
Jammers' boss Peter Taylor made three changes from the side that overcame Basildon United. Michael Finneran, Joe Turpin, both of whom picked up knocks on Tuesday night, and Ronnie Bates made way for Toib Adeyemi, new signing Jamahl Godward and George Smith. There was also a change in formation as the side switched to more of a 4-2-3-1.
The Jammers started far the better side and had a chance to take an early lead after 4 minutes when Peter Mokwenye crossed in, but the ball was just out of reach of Godward.
Three minutes later, Jammers were on the march again when a great through ball from Lewis Jaggs set Harry Phillips away. His fierce effort from 25 yards out produced a fine one handed save from Harry Fairs who was at full stretch to palm the ball away.
On 15 minutes, Phillips put Terrell Egbri in, but a good tackle from full back Ibrahim Kamara snuffed out another Maldon attack.
With 20 minutes gone, Maldon had had all the ball and played some good football on a difficult pitch, but their positive play hadn't yielded that all-important breakthrough.
The game entered something of a lull with both sides struggling to do anything effective with the ball when they had it. But just shy of the half hour mark, Rovers nearly took the lead completely against the run of play. A long ranger from Jacob Bland had plenty of spice on it as it dipped and swerved in the air, forcing Maldon's Tommy Dixon-Hodge into an impressive save.
Ten minutes before half-time, great interplay from Maldon's Sam Coombes and Egbri down their left allowed Egbri to get a cross in towards Smith at the near post. A Wakering defender just got himself in front of the Jammers' frontman to put the ball out for a corner, which then came to nothing.
There was still time at the end of the first period for Wakering to trouble the Jammers through Jack Thompson. He managed to get a shot off, but a superb last-ditch tackle from Coombes took all the power out of it, allowing Dixon-Hodge to pounce on the ball before it crossed the line.
Half time came, with the score line somehow 0-0 in spite of the near dominance of Maldon who created the better chances by far.
The second half never really got going. If you're playing along at home and you've got "one for the purists" on your Cliche Bingo card, mark it off, because that's exactly what the game turned into at times.
There were few moments of excitement but on 50 minutes, a wonderful ball in from Jammers Billy Willis, from the right-hand side was just behind Smith and he couldn't quite adjust his feet top get a shot away.
Chances were few and far between for either side, with the really bobbly pitch not helping.
A long ball forward from Maldon's keeper sent Egbri on his way with a little under 15 minutes left. Wakering keeper, Fairs just about managed to claim the ball before the Jammers front man and the chance went away. Seconds later, the hosts were nearly "Dunn" for when Wakering centre back Perry Dunn played the ball straight to Brad McClenaghan, but his shot lacked power and Fairs gathered comfortably.
It was clear that if either side was going to win the game, it would only need a single goal. On 80 minutes, Maldon nearly got it when Lewis Jaggs smashed the post with a freekick from 25 yards out. The Wakering keeper was nowhere near the effort and it just summed up how Maldon's afternoon was going.
With five minutes left, Wakering's David Knight smashed an effort over the bar with an effort that summed up the whole match in one moment. afternoon.
Ex Jammers man, Rob Lacey then found himself free in the Maldon's box, but he put his header wide of the target.
The game ticked into injury time which presented probably the best chance of the whole game. As Maldon pushed forward for a winner the ball fell to Coombes about 10 yards from the goal. His left foot shot fired over the bar with literally the last kick of the game. The ball was still airborne when the referee blew for full time.
Maldon were left to rue their poor finishing for leaving the game with only one point. The two dropped points leave them 10 points clear of the bottom four, but having played more games than those around them. They are not completely out of the woods ahead of the visit of Brentwood Town this coming Saturday, 4 March.