Jammers end with a defeat that encapsulates disappointing season
---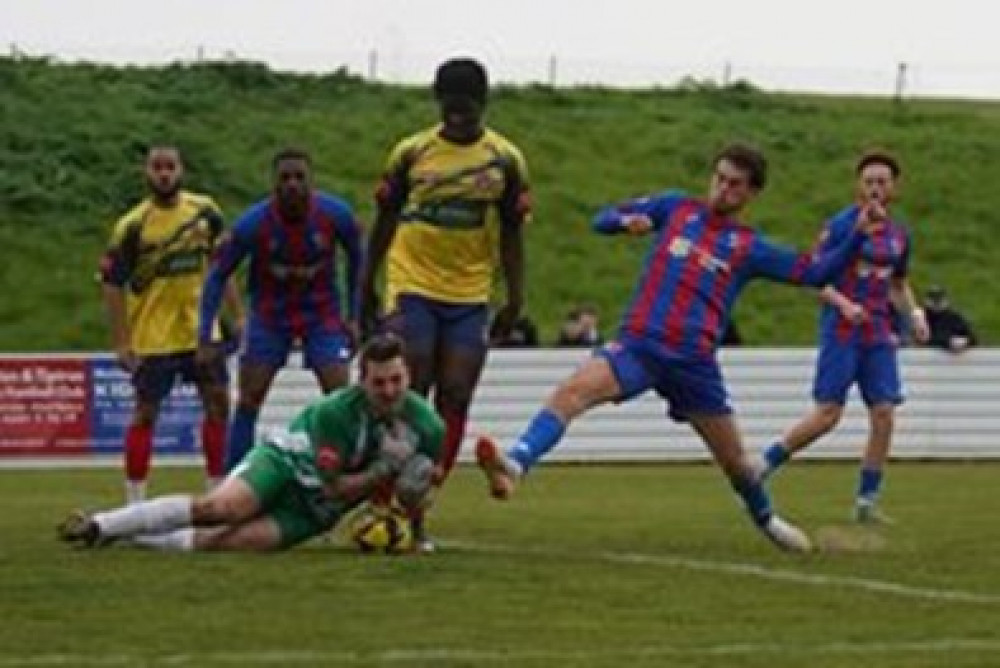 Maldon & Tiptree 0, Witham Town 1
MALDON finished the 2022/23 season with defeat in a game that encapsulated a disappointing campaign.
Hopes were high the Jammers could end on a positive note following an impressive 1-0 win away to Wroxham on Tuesday night and manager, Peter Taylor shuffled the pack again with Luca Collins, Jamahl Godward and Peter Mokwenye making way for Rob Budd, Billy Willis and Chris Gregan.
The hosts started brightly, pressing the Witham back line from the first whistle, causing the visitors problems.
That early pressure looked to be paying dividends, when on 12 minutes, a great switch of play from Sam Carter found Terrell Egbri on Maldon's left wing. His cross in found Louie Remi on the edge of the Witham penalty area, but his effort was well saved by Ben Lane.
With 20 minutes played, a poor Witham freekick was intercepted by Remi who came away with the ball and managed to play Michael Salako in on goal. The Jammers man had a Witham defender for company as he made his way into the box and couldn't keep his effort down.
It seemed like only a matter of time before Maldon would make their early dominance count. A minute later, another peach of a ball in from Egbri found Remi at the back post, but the Jammers man- who was impressive on Tuesday night- miscued his effort and the chance was lost.
Egbri, the man in the pink boots, was in purple patch in the game and in the half hour mark, linked up with Chris Gregan down the left-hand side before playing an inviting ball into the 6 yard box, this being well claimed by Lane.
Witham managed to work their way back into proceedings, forcing Maldon into some sloppy passes. But an effort from distance that cleared the crossbar from Farai Tsingano was all they had to show for their efforts in the first 35 minutes.
With halftime looming, there was a final chance for Maldon when Willis put a high, looping ball into the box towards Egbri at the back post. Sadly for The Jammers Egbri's shot hit the side netting and Maldon went in at half time at 0-0, and not ahead as their play had deserved.
The final half of the season began and Witham were a far more dangerous prospect than in the first period. Straight from kick off they won a throw in which was hurled into the box by Ramiah Mills, the ball was recycled back out to the Witham man who fired a shot off from 25 yards which was just about shovelled away by Budd in the Maldon goal.
Five minutes later, Mills was put through himself, this time effort drew a great save from the legs of Budd.
Maldon composed themselves and made their first forays forward with 8 minutes of the second half played. The opportunity arose through Remi's pressing in the right back position, his ball to Harry Phillips was knocked onto Egbri, but he put the ball over the bar.
With an hour played, it was Witham's turn to come close, Abdul-Rasheed Ajani-Salau firing over the bar from distance.
The Jammers continued to try and forge an opening, with Egbri again working well to create space for a cross that was cleared only as far as Godward. He tried his luck from 20 yards, but his shot cleared the bar. The game was much more even but Maldon were struggling to get any passing going on a hard and bobbly pitch.
The Witham winner came on 76 minutes, and was a sucker punch that seemed to sum the Jammers season up in a nutshell. A Witham chance was cleared by Maldon and Terrell Egbri broke away with the ball at his feet, and a 4 to 2 overload of Maldon players going forward. All of a sudden the ball got stuck under Egbri's feet and he was dispossessed. The initial Witham shot was saved by Budd, but he could do nothing about Tsingano following in to tap the rebound home.
Late pressure from Maldon to find an equaliser was limited to a shot at Lane from Jaggs and a looping effort from Godward that nearly caught the Witham goalkeeper out.
The final whistle came and brought the curtain down on a difficult season for Maldon for whom much more will be expected of the Club next season.