Maldon & Tiptree 'safe' after beating Hullbridge 2-1
---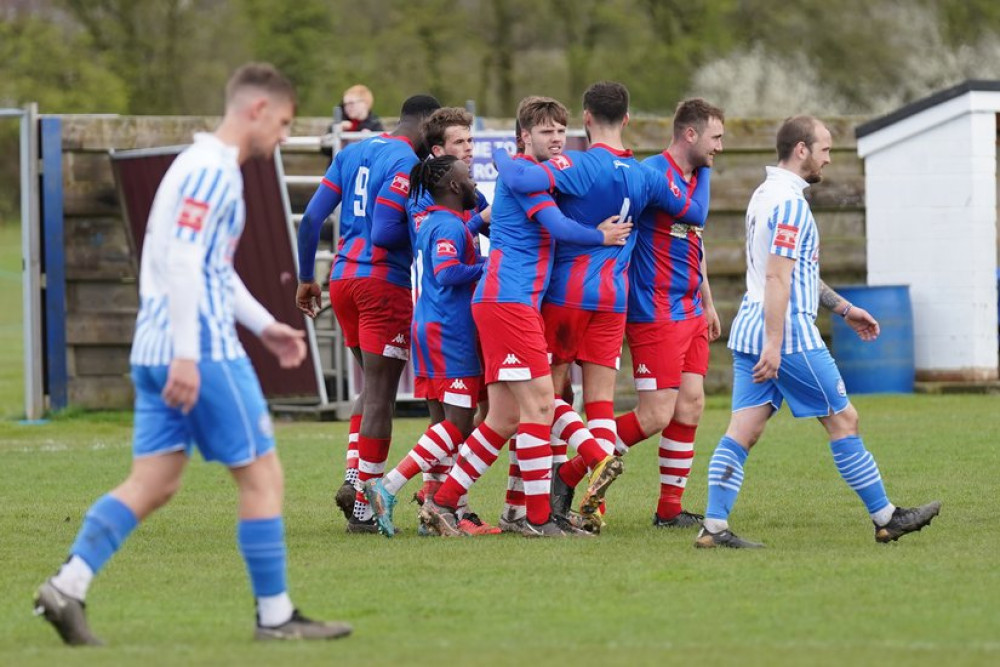 The Jammers dealt a hammer blow to Hullbridge's hopes of avoiding the automatic relegation places. (Photo: Roy Warner)
Maldon & Tiptree FC 2 - Hullbridge Sports 1
Report by Lee Witney
Having started the League season with ten straight defeats, Maldon & Tiptree completed a timely resurrection to secure their Isthmian North status, beating a battling Hullbridge side 2-1 at Lower Road on Easter Monday.
Fresh from Friday's 3-0 defeat at home to AFC Sudbury, the Jammers knew a positive result would ensure survival and made two changes with Toib Adeyemi and Louie Remi making way for Joe Turpin and Sam Ayoola.
Maldon started well and with seven minutes on the clock, good work from Ayoola in the middle of the park to hold off his man and pick a pass put Harry Phillips through on goal. One on one with Lewis Greene, the Jammers man scuffed his effort, allowing the Hullbridge keeper to gather with relative ease.
A few minutes later, we were on the charge again. A well worked throw in from our half put Ayoola through. Again, Greene was the only man left to beat, but Ayoola put his effort just the wrong side of the post and Hullbridge survived again.
With 25 minutes gone, Maldon had the breakthrough their play had deserved. A freekick on the left hand corner of the Hullbridge box was played in by Harry Phillips and found an unmarked Joe Turpin who powered the ball past Greene to the delight of the travelling fans.
Things seemed to settle down for a period with both sides struggling to put much together in the way of attacking threat. But with 5 minutes to go until half time, Maldon gave themselves some much needed breathing space.
A freekick on the left hand side of the Hullbridge box was played in by Lewis Jaggs. He found skipper, Michael Finneran at the back post who headed the ball back across the box, finding Turpin again. Turps put his effort straight at Greene from point blank range, but the keeper couldn't hold it and Michael Salako was in the right place to smash the ball home to make it 2-0.
Half time came and the roles were reversed from Friday. This time, it was the Jammers wondering how they weren't further ahead.
The second half was a far more even affair. After just five minutes, Ayoola was put through on goal. He rounded Greene and slid the ball goalwards only to be denied by a stunning clearance from Guy Norton.
That clearance looked even more crucial just two minutes later when Martin Tuohy pulled one back for the hosts from a corner. I'd love to tell you what happened, but in all honesty - I didn't realise they'd scored until we put the ball on the centre spot to kick off again!
That seemed to jolt Hullbridge into life. On the hour mark, a corner was cleared off the Jammers goal line. Maldon were rocking - and not in a good way - as Hullbridge piled on the pressure seeking a precious equaliser.
Maldon steadied themselves and with just over 20 minutes left to play, Ayoola flicked a long Rob Budd clearance on for Harry Phillips. Cutting inside, Phillips looked to bend it into the top left corner but he was lacking the accuracy and the ball flew over the bar for a goal kick.
A long range effort from Adam Topley whistled past Budd's post with 75 minutes gone.
Hullbridge's task got a lot harder on 85 minutes when Conor Tyrrell was shown a straight red card after bringing down Ayoola as he was through on goal with the resulting free kick from Jaggs going straight into the wall.
Seeking to put the game to bed, Terrell forced a turnover of possession as Hullbridge tried to play the ball out of defence. But it was another missed one on one as he put the ball high and wide to leave the hosts with a glimmer of hope.
With the game in it's dying embers, Louie nearly got a goal to his name when Terrell put him through. The Jammers substitute got his shot away but drew a fine save from Greene in what proved to be the final action of the game.
Full time bought confirmation of the Jammers' survival at the end of a difficult season and dealt a hammer blow to Hullbridge's hopes of avoiding the automatic relegation places.
Next up is a road trip to face Gorleston. The hard work to get us back competing at the right end of the table starts now.