Burnham Rugby Club wins tight away game at Kelvedon
---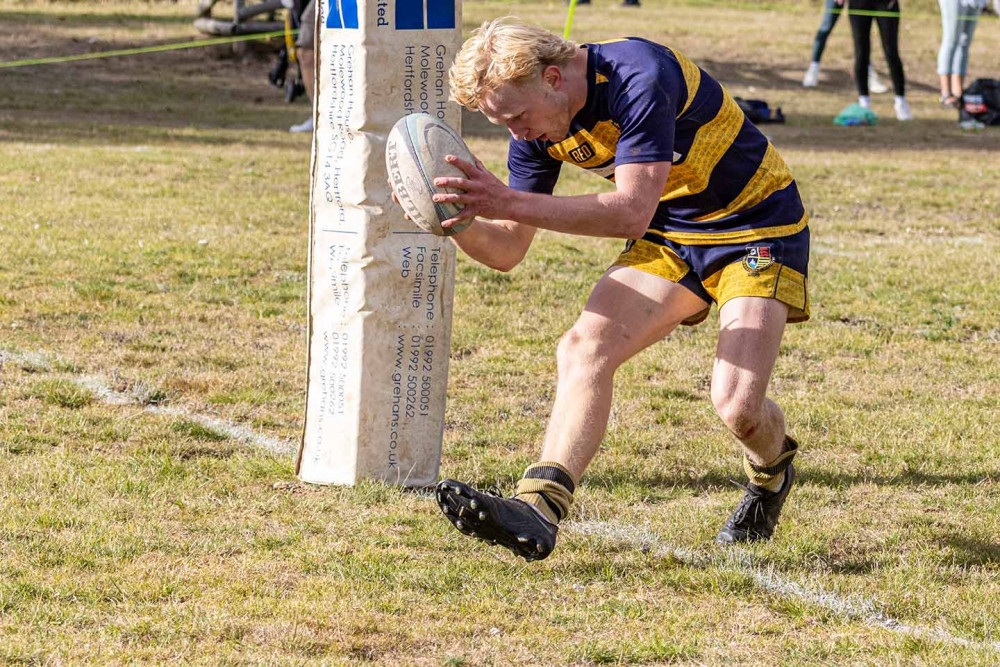 Burnham's Ben Barr scored a try. (Credit: Burnham RUFC)
Burnham RUFC 42 - Kelvedon 24
Burnham 1st XV travelled away to newly formed club Kelvedon and Feering, who are now enjoying their third season in a second round tie in the Counties 2 Essex North division.
The game started at a blistering pace with strong runs from the Burnham backs including some storming runs by number 5 Tom Limpenney. The Kelvedon defence held out for the most.
The deadlock was broken by well taken penalty by Jake Braybrook after considerable amount of pressure from Burnham.
Soon after Burnham increased their lead with a scintillating try by winger Joe Petherick after some lovely passing along the back line which was converted by Jake Braybrook.
Unfortunately not long after the Kelvedon backs put together some nice passes and went in under the posts for seven points after some slack tackling from Burnham.
Soon after Jake converted another penalty followed shortly after by a nicely worked try by number 6 Danny Howell again converted by Jake.
As the "Half" (nearly 60 minutes) went on a further converted try from the opposition and a further penalty by Jake Braybrook ended at 23 – 14 to Burnham.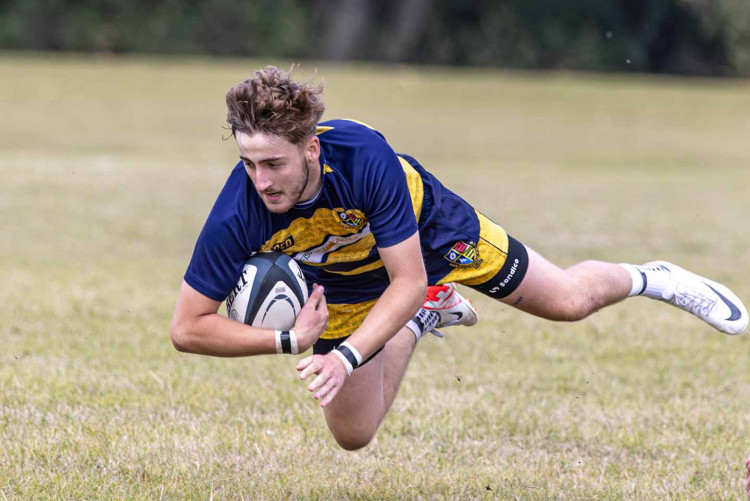 Josh the Bosch in action. (Credit: Burnham RUFC)
The second half started with the same gusto but after a few yellow cards and a lot of stop starts from the referee the game lost a bit of momentum.
Burnham resisted the 30 minutes of 14 man rugby with great discipline and a greater effort from all the players resulting in 3 further tries, a powerful effort from Luke Cowell, one from Man of the match Ben Barr and a fine solo run from Charlie Russo with two further conversions from Jake Braybrook.
In the last few minutes Kelvedon pressured the Burnham line and were awarded an unusual penalty try. The final whistle went with Burnham as winners 42 – 24.
Wally of the week went to Charlie Russo for being yellow carded after 10 seconds on the field.
Match Day Squad:
Jack Hawkins
Tom Ford
Harry Bouch
Sean Mangan
Tom Limpenney
Danny Howell
Joe Barr
Luke Cowell
Lewis Gilet
Jake Braybrook
Joe Petherick
Sam Barr
Ben Barr
Sam Kellehar
Josh the Bosh
Replacements: Aland Gregory, Charlie Russo, Charlie Sims.
Next Fixture: Saturday 30 September at 2pm, versus South Woodham Ferrers at Millfield's, opposite the fun Fair.
Read more