IN PICTURES: Maldon Panto Society hails New Year production a 'terrific' success, with all shows sold-out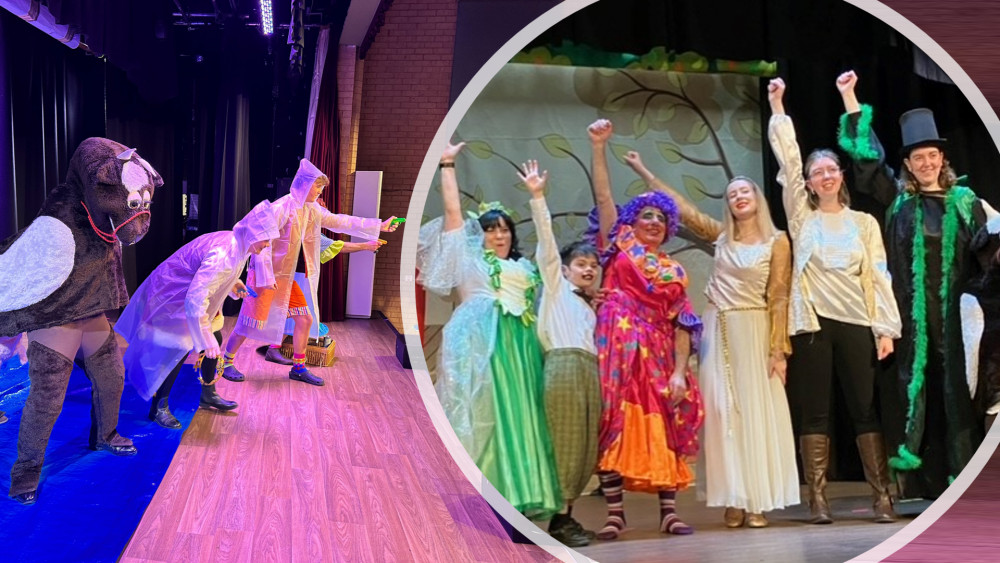 Maldon Pantomime Society took the stage for the first time since the pandemic, with a fresh cast but the same enthusiasm for panto. (Photos: Maldon Panto Society)
As panto season comes to an end, Maldon Pantomime Society members can look back with pride at their recent production of Jack and the Beanstalk.
From the first night, Maldon Town Hall was "packed out", with every seat sold over the four shows. The feedback from the audience was said to be "terrific".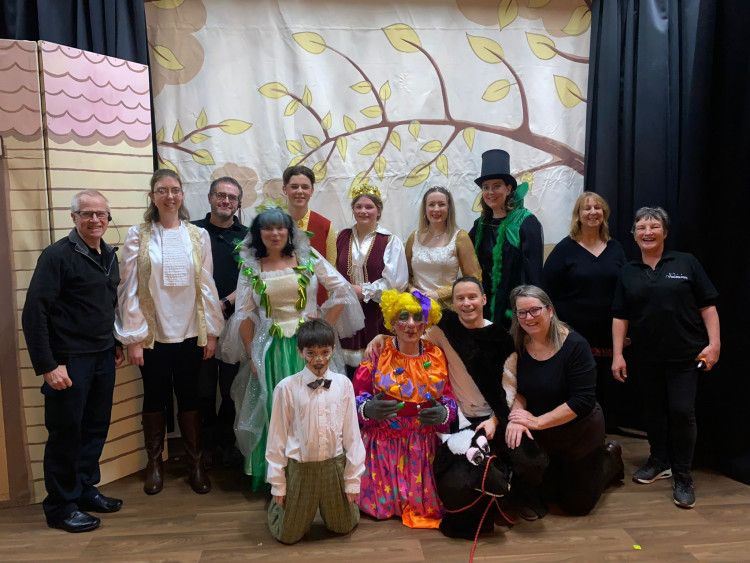 Cast and crew worked hard to keep things running smoothly. (Photo: Maldon Panto Society)
Carey Brown, Publicity Officer for Maldon Drama Group, took on publicity for the panto, helped at rehearsals, and joined the backstage crew during performances, to help the Maldon Panto Society get this year's show off the ground.
She told Nub News: "The audience enjoyed a couple of hours of mayhem, with corny jokes, a fearsome giant, and a very flirtatious dame!"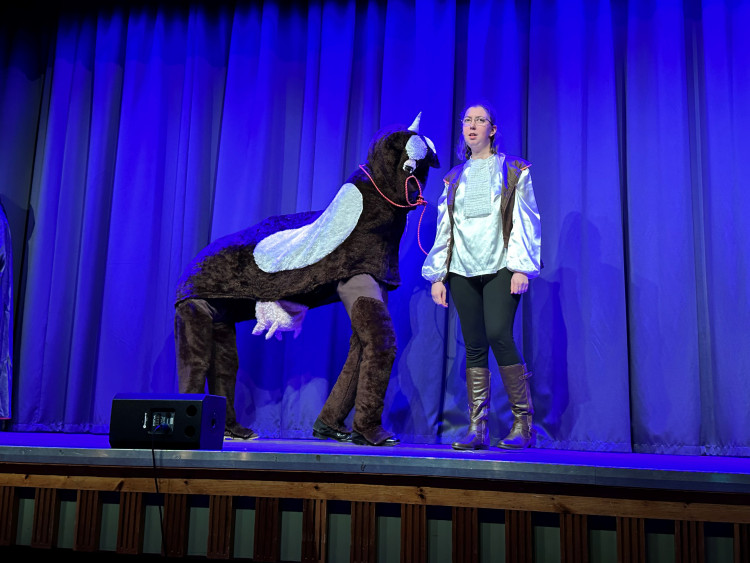 Beth Palmer played the titular Jack, joined onstage by two Maldon Drama Group members playing Pat the Cow. (Photo: Maldon Panto Society)
Carey says a technical glitch on the first night meant three of the young cast, Emily Beasley and sisters Beth and Becca Palmer, had to step forward and save the day, getting "huge" support from the audience.
She added: "Isaac Harris [who played Spinach, sidekick to baddy Flesh Creep] had some classmates in who said it was the best panto ever!"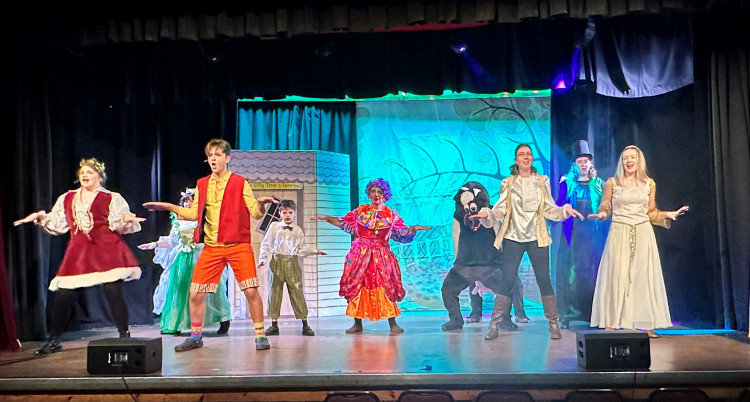 All three initial performances were sold-out, followed by a fourth, which also sold-out. (Photo: Maldon Panto Society)
After the final performance, Maldon Pantomime Chairman David Campbell presented the cast with commemorative plaques, a pot of 'magic beans' and each received an individual gift of a prop from the show. He also thanked the more than 30 volunteers who made the show possible.
Two other local groups teamed up to support the panto this year.
Maldon Drama Group supplied a costume advisor, Helen Rasmussen, and a front-of-house team led by Linda Adair. Two members, Scott and Lynn Peters, even provided both ends of 'Pat the Cow'.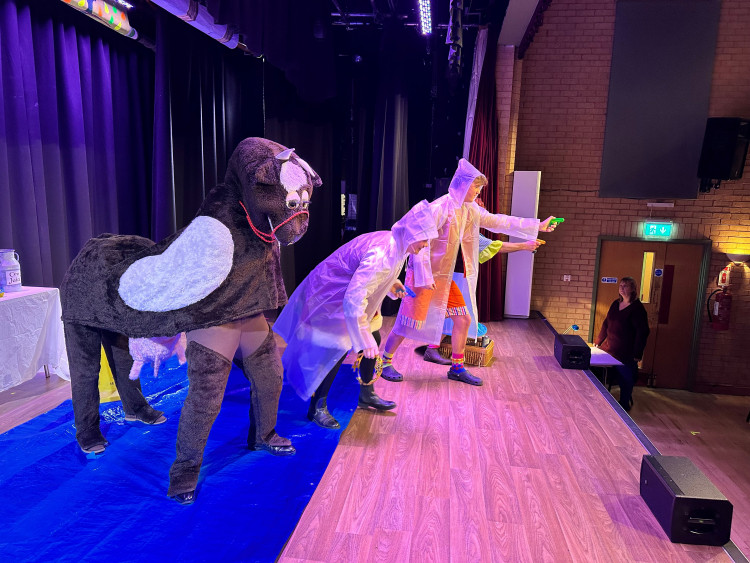 Maldon Drama Group actor Scott Peters, and his wife Lynn, played Pat the Cow. (Photo: Maldon Panto Society)
The newly formed Maldon and District Dramatics Society (MADDS) pitched in with stage movement and choreography. Members Carol and Sean Hart took on the "onerous task" of running the bar.
Father-and-daughter directing team, Ian and Laura McDonald, expressed their gratitude to the cast, who were "almost entirely new to pantomime and so full of talent and enthusiasm".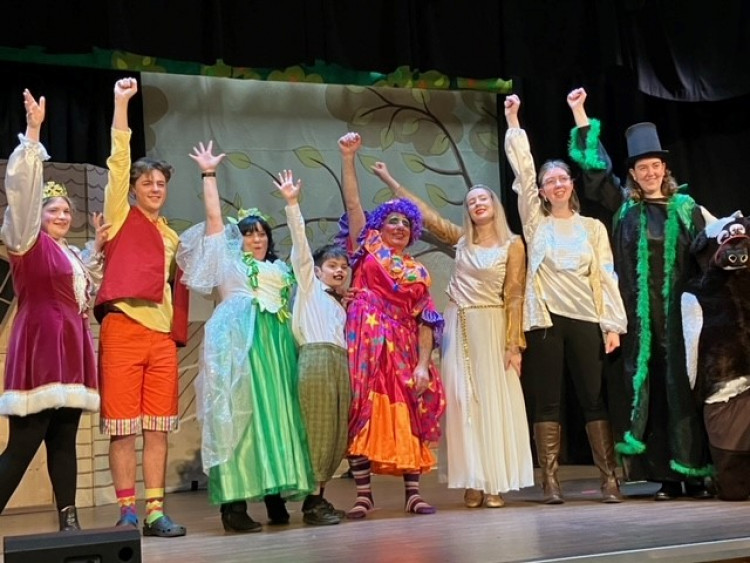 The 'enthusiastic' young cast drew praise from the Co-Directors and audiences alike. (Photo: Maldon Panto Society)
George Smith (second from the left), who played Simon Trott, has bagged the leading role of Danny Zuko in The Youth Theatre's production of 'Grease' at Basildon Towngate Theatre in April.
Read more
New maldon Jobs Section Launched!!
Vacancies updated hourly!!
Click here: maldon jobs