Lord Chief Justice visit: Top judge tours Maldon's historic Plume Library and Moot Hall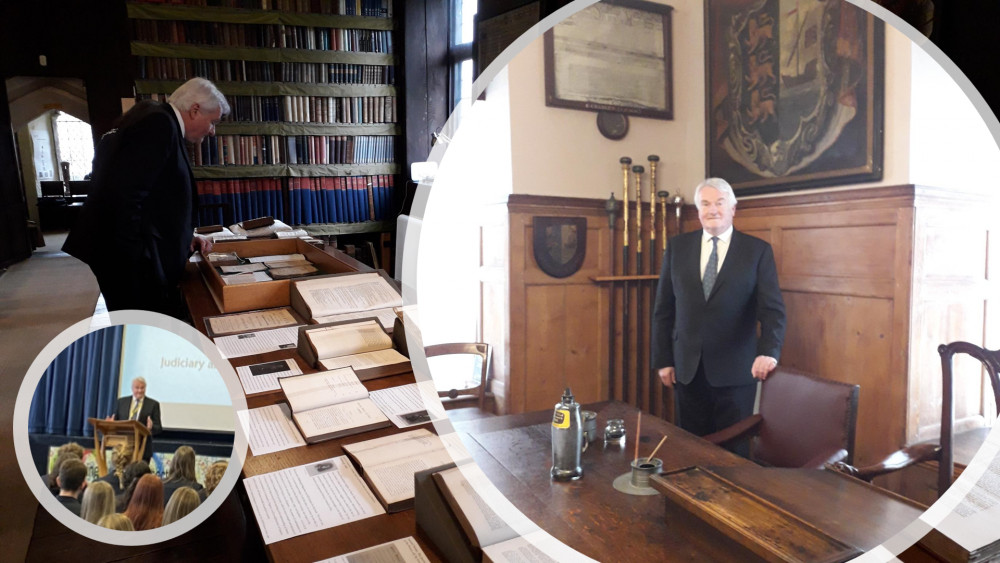 The Lord Chief Justice, Lord Burnett of Maldon, browsed Plume Library's law books during his visit to the town. (Photos: Nub News and Maldon Town Council)
The most senior judge in England and Wales visited the Moot Hall and Thomas Plume's Library, during his trip to Maldon today (March 20).
Following his visit to Plume Academy, he took in the rich history of two of the town's significant historic buildings.
Maldon Town Council was "delighted" to welcome The Right Honourable Lord Burnett of Maldon, the Lord Chief Justice of England and Wales.
A Town Council spokesperson said: "We were honoured to welcome The Lord Chief Justice to Maldon and to show him around these valuable parts of our town's history.
"We hope his visit will help raise the profile of the Moot Hall and Thomas Plume's Library, and encourage more people to come and visit these cherished sites."
This morning, the Lord Burnett of Maldon visited Plume Academy as part of the school's engagement programme which judges are involved in throughout the country.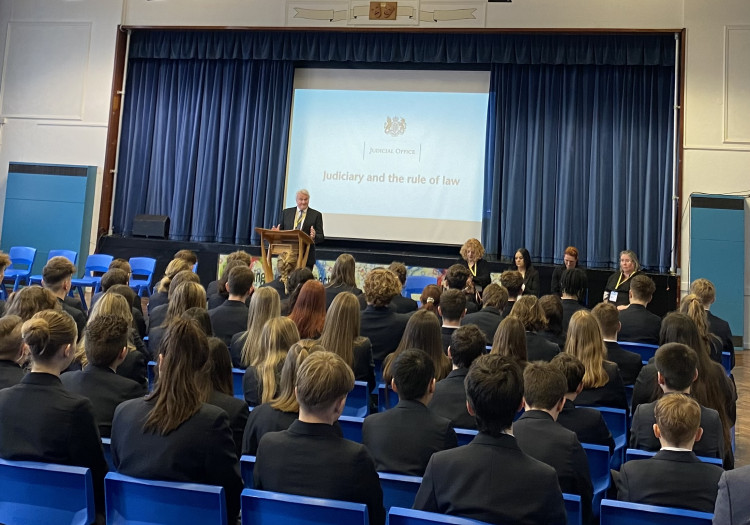 Lord Burnett addressed students at Plume Academy this morning. (Photo: Nub News)
Speaking at the Academy earlier, the Lord Chief Justice said: "I want to make it easier for schools to help teach pupils about the justice system, and how it really works."
He was then given a tour of the Moot Hall by local historian Stephen Nunn, who provided insight into the building's history and local significance. The Grade I listed heritage building dates to the 15th century, with the tower thought to have been built around 1420.
The Lord Chief Justice was then welcomed to Thomas Plume's Library by librarian Dr Helen Kemp. It houses more than 8,000 books and pamphlets. Maldon-born Dr Thomas Plume, Archdeacon of Rochester, bequeathed the items to the town to be kept in the building which he had constructed from the ruins of the old St Peter's Church, on the corner of Market Hill and the High Street.
The Moot Hall and Thomas Plume's Library both hold public events and offer a unique opportunity to explore Maldon's rich heritage. Those wishing to learn more should visit the Moot Hall's website or the Plume Library's website.
Read more