RideLondon 2023: Full details of road closures and travel updates in the Maldon District this Saturday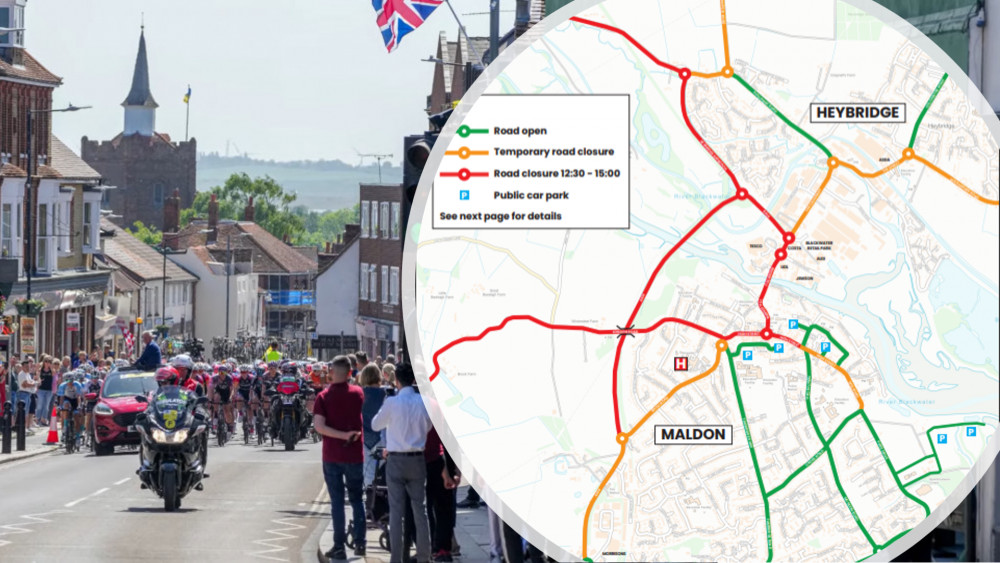 Get full details on travel and road closures in the Maldon District ahead of this Saturday's RideLondon event. (Images: RideLondon)
This Saturday (May 27), the Maldon District will welcome the arrival of 'elite' women cyclists for the second day of 'Ford RideLondon Classique' – but road closures and delays are expected.
Organisers have warned vehicles parked in residential or disabled spaces on the route will be relocated.
The race will start at 11am in Promenade Park and is expected to finish between 2.15pm and 2.35pm. The western side of Maldon High Street will host the Finish Area of the event and will be closed to vehicles from 4am until 8pm.
After starting in Maldon, riders will head north-east to Tolleshunt D'Arcy, Abberton Reservoir - passing through Peldon and Birch Green, between approximately 11am and 12pm.
Riders will then travel south-west back to Maldon via Tiptree and the route in this area will be closed to traffic for a short period of time between 11.30am and 12.30pm. Roads in these areas will be closed for 20 to 45-minute periods.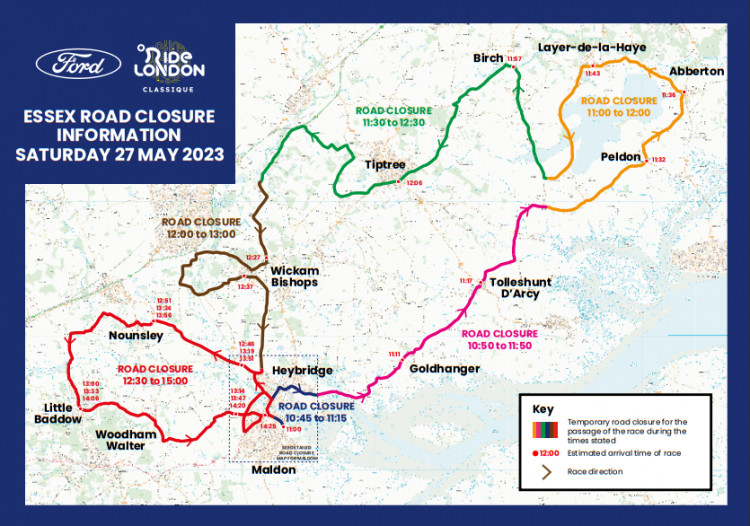 Road closures will be in place throughout the county on Saturday. (Image: RideLondon)
Despite the closures, High Street shops and restaurants will be open as usual. Pavements will be open for pedestrians, although controlled pedestrian crossing points will be in operation at times when cyclists are passing through.
While the event is hoped to provide a tourism boost for the town, some local business owners have shared concerns they could see a reduction in customers on Saturday.
Allison Gray, who owns the popular boutique Willow and Fox, warned local businesses lost trade during last year's event.
The owners of Mrs Salisbury's Famous Tea Rooms added: "It's great for the town. But from a food and drink business perspective, last year was incredibly quiet compared to a usual day."
Find out which roads will also be affected here:
Maypole Road will be closed from 12pm to 1pm.
The A414 between Heybridge Approach and Limebrook Way, the B1019 Maldon Road, Fullbridge and London Road will all be closed from 12.30pm to 3pm.
Spital Road will be closed from 2pm until 3pm.
For all other areas along the route, temporary closures will be in place while riders pass through, via a rolling roadblock of police officers on motorbikes.
Stewards will direct traffic on the day and can provide information on when roads will reopen. However, motorists are advised to avoid car journeys along the route where possible. Emergency blue light access will be maintained, along with access for carers visiting vulnerable clients.
Travel outside the district on Friday 26 and Sunday 28 may also be subject to delays, so the public is advised to allow extra time, especially if travelling to Stansted airport.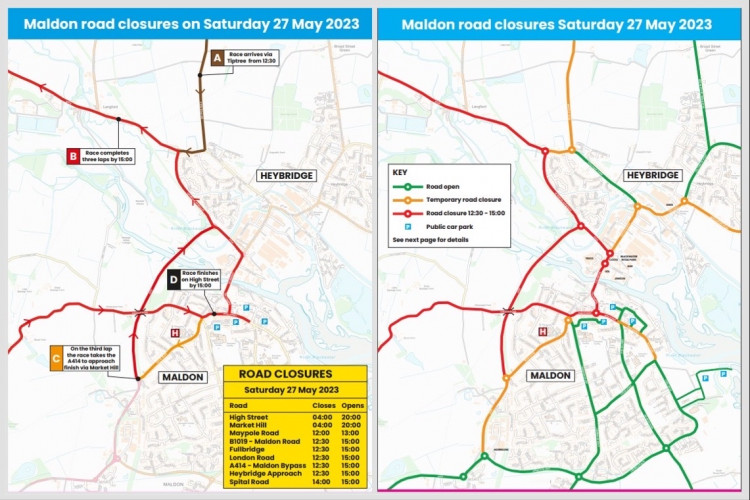 Roads like the High Street and Market Hill will be closed all day - from 4am until 8pm. (Images: RideLondon)
Bus transport
Bus services will be disrupted, as the upper part of the High Street will be closed all day. This includes the 75 bus to Colchester, 31 and 331 to Chelmsford/Burnham, 73 to Chelmsford, 90 to Witham, the 288 town circular route, and the 95 to Tollesbury. DaRT services may also be delayed or diverted.
More information on bus route diversions can be found on the First Bus website, the Hedingham & Chambers website, or the Stephenson's of Essex website.
Arrow/Essex Essex and Suffolk Dart services will use 'live control' on Saturday, as they are not tied to fixed routes in Maldon, so passengers should call 01621 874410 to arrange a suitable pick-up spot.
Car parking
White Horse car park is open throughout, and parking will be available at Promenade Park on the lower car park - except the coach park. Butt Lane and High Street East will be available apart from brief road closures at the start of the race.
Parking bays along the route are suspended. Residents whose cars have been towed away are asked to call RideLondon customer services on 020 7902 0213 to find out where it has been relocated.
Following last year's event, it was announced Essex would receive £1 million in funding from The London Marathon Charitable Trust.
For more information on this weekend's event, visit the RideLondon website.
Read more