Maldon miss crucial penalty before going down at Brentwood Town.
---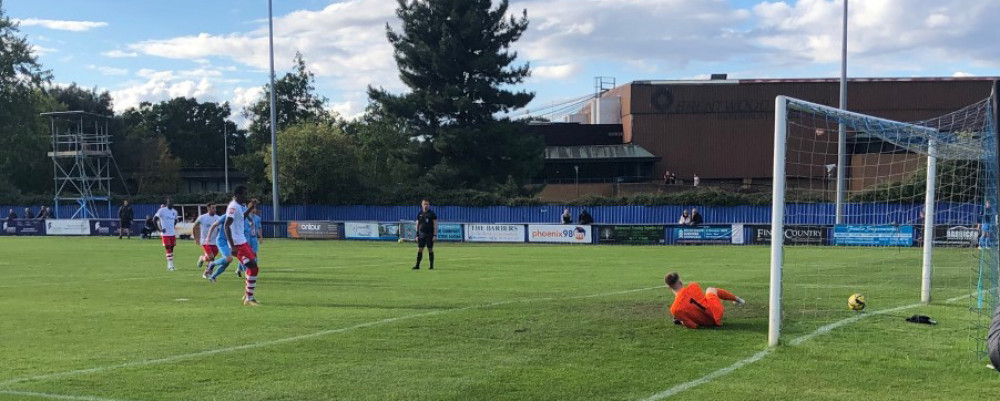 Brad Ihionvien's penalty rolls across the line after striking a post. Picture by Scott Mitchell.
Brentwood Town 3, Maldon & Tiptree 1
The Jammers were left once again to rue missed chances as they went down at Brentwood Town on Saturday in the Isthmian North, their sixth successive league defeat since the start of the season but it was only by the cruellest of incidents when a penalty that could have given them a grip on the game rolled agonisingly across the face of goal with the keeper beaten
Maldon started the game against a team much-fancied to be pushing for promotion and they started with a strong wind at their backs.
That positive start almost paid dividends within the first two minutes when Scott Kemp beat a defender in the box before firing a shot only a foot wide. They pressed the Brentwood defence and their effort and pressure created more chances.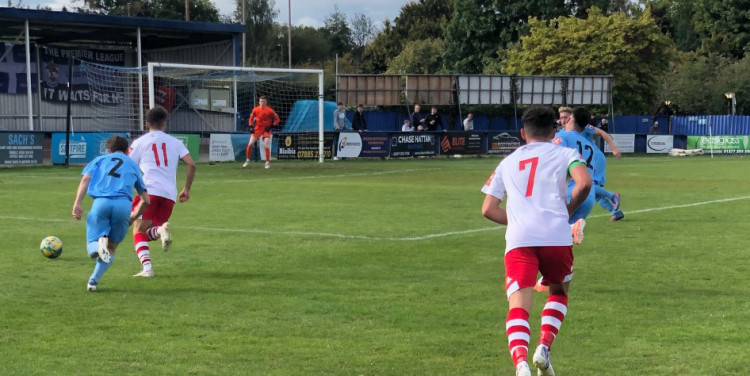 Harvey sayer crosses for Brad Ihionvien to score on 14 minutes.
Harvey Sayer fired over before the same player on 14 minutes sent over a cross from the left where Brad Ihionvien fired in to put deservedly in front.
It was Maldon that continued to push forward and further chances came and went. Sayer had a dribble and shot, Ihionvien was put through but was foiled by a good save and Ihionvien was also again close when he was put through by Joe Turpin.
The half ended 1-0 to The Jammers who deserved more from their first half performance.
The second half started with Brentwood having the advantage of the wind behind them although the game was a more an even one than seen in the first half where Maldon dominated.
Brentwood failed to create much but pressed forward. Some of their pressure created chaos at one corner when nobody on either team seemed to be able to put the ball in the net or clear. Maldon's Joe Turpin finally hacked the ball clear.
Maldon still had chances of their own and Kemp made a good run down the left before crossing over to Ihionvien who was within a foot of making a point-blank header at goal.
The game's pivotal moment came on 60 minutes when Kemp had a shot clearly handled in the Brentwood box by a Brentwood defender. A penalty was rightly awarded although The Jammers team and fans were left mystified as to why Brentwood were not reduced to 10 men.
Ihionvien took the spot kick and sent to Brentwood keeper the wrong way. The ball hit the inside of the right post before rolling along the line and away to safety. A fair reflection of the play would have seen The Jammers go 2-0 up but it was not to be.
Brentwood seemed to grow from that point and for the last quarter of the game pushed forward with more vigour. Brentwood equalised on 67 minutes when their forward Matt Price was put clean through and he coolly netted.
Within six minutes Price headed home for Brentwood after a pinpoint cross to him from the left. Brentwood were now 2-1 up and Maldon were left to wonder what had happened.
To rub salt into the wounds on 86 minutes Tom Richardson netted a penalty for Brentwood.
Somehow Brentwood had won a game that for the most part they had only been bit players in. Maldon failed to take their chances, once again, and were defeated again. Their defeat leaves them bottom of the table.
They will hope to break their league duck with a home league game against fellow strugglers Great Wakering Rovers on Saturday, 1 October.