Maldon & Tiptree FC and Jammers Fans Association to hold Christmas hamper foodbank collection next month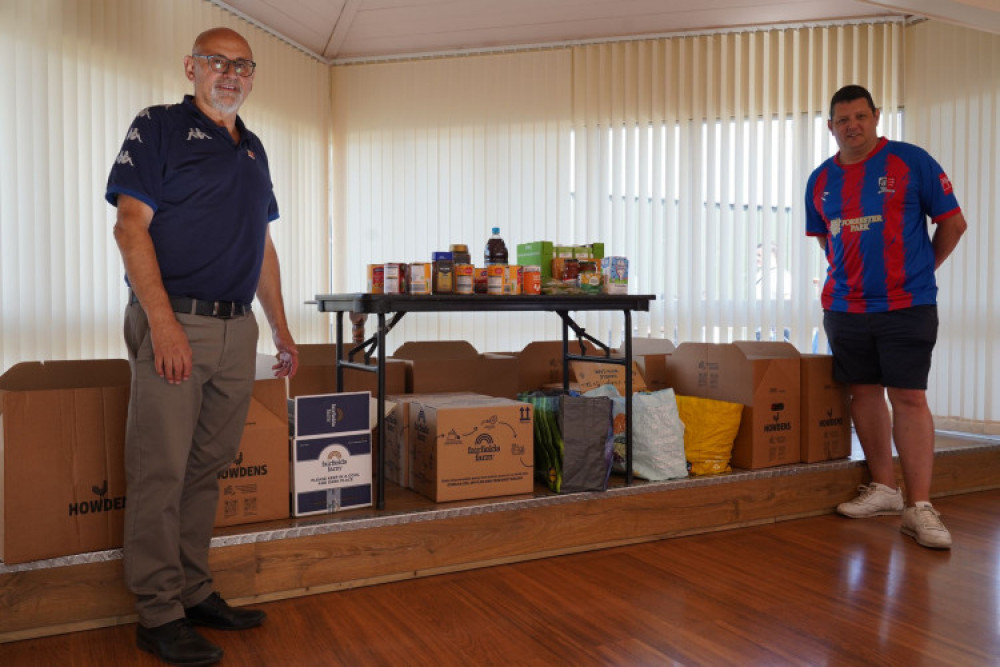 Maldon & Tiptree FC Chairman, Jerry Carter, with Tony Williams, Chair of the Jammers Fans Association, pictured at the foodbank collection in August.
The Jammers Fans Association is set to hold its third foodbank collection, to support those using the Maldon Food Pantry this Christmas, on Saturday 3 December.
It will be held before Maldon & Tiptree FC's home match against Gorleston FC, between 1.30pm and 3pm.
This time, organisers are urging fans and residents to donate items suitable for Christmas hampers, such as Christmas puddings, nuts & sweets, Christmas cake, stuffing, and others.
They are also calling for the following items:
Tinned meals
Tinned meat, fish, fruit, and vegetables
Pasta and pasta sauce
Sugar
Jam
Tinned tomatoes, baked beans, and soup
Toiletries
Long life milk
Nappies – sizes 3, 4, 5, and 6
In a statement, the association said: "Your generosity previously has blown us away.
"Please give what you can and let's help people out this Christmas!"
This latest collection follows two previous successes, in December 2021 and in August this year.
Last time, the Association donated hundreds of items to Maldon Food Pantry, the local foodbank. They hope to repeat that success once more.
Those wishing to donate are asked to bring their items to the Maldon Stadium, in Park Drive, before kick-off.
Take a look at what Tony Williams, Chair of the Jammers Fans Association, had to say during the organisation's previous foodbank collection:
Read more