Award-winning Maldon Drama Group preparing for latest production, 'Steaming', with sights set on another prize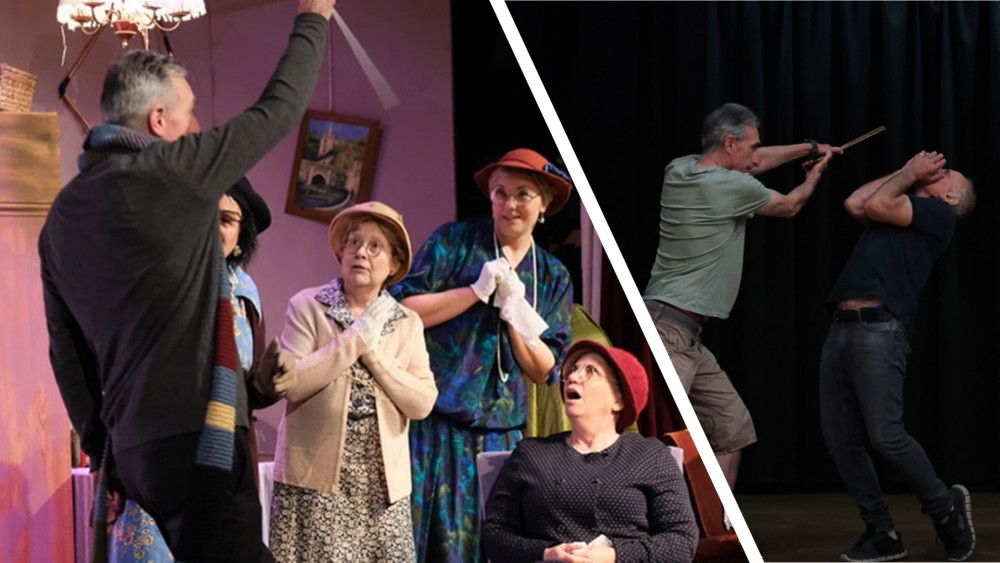 Maldon Drama Group won the NODA District 8 award for Best Drama for 'Ladykillers' (left) last year, and has been nominated again for its production of 'One Man, Two Guvnors' (right). (Photos: MDG)
Following its award-winning production of 'Ladykillers', Maldon Drama Group is getting ready to perform Nell Dunn's 'Steaming' at the Town Hall on April 20, 21 and 22.
Last year, the group won the NODA District 8 award for Best Drama for 'Ladykillers'. It has been nominated again, this time for 'One Man, Two Guvnors', the group's 70th anniversary production last October.
The winner will be announced at a ceremony on April 16.
Meanwhile, the cast is working at 'full steam', ahead of their latest production next month.
'Steaming' is set in the Turkish Room of some run-down public baths in the East End of London. It follows the story of five very different women who meet regularly to share their fears, dreams and hopes for the future, in a safe space.
When the baths are threatened with closure, the women, along with stalwart Violet who manages the ladies' sessions, must decide what to do. Will they give up their safe haven without a fight? No chance.
"Can you imagine skipping out on stage in the nud and spotting your next-door neighbour in the front row?"
The original play in London's West End caused a stir when it premiered in the 1980s, thanks in part to its regular nudity.
Carey Brown, Maldon Drama Group's award-winning cast member, told Nub News: "Needless to say, we will not be performing naked on the stage at Maldon Town Hall.
"Can you imagine skipping out on stage in the nud and spotting your next-door neighbour or local shop keeper in the front row?
"But we have found some fun ways to get round it."
The Times describes 'Steaming' as "a lovely play, suffused with affection and shot through with extravagant and caustic wit". Meanwhile, The Guardian says "the great strength of [Nell] Dunn's play is that it is like a girls' night out without the hangover".
Maldon Drama Group will be hoping to repeat the success of its last two productions, when it performs 'Steaming' from 20 to 22 April at 7.30pm.
Ticket prices range from £10 (for the stalls) to £12 (for the balcony) and are available to purchase via Maldon Drama Group's Ticketsource website.