Maldon District councillors clash over members' allowances at Statutory Annual meeting – Council stalwarts rewarded for long service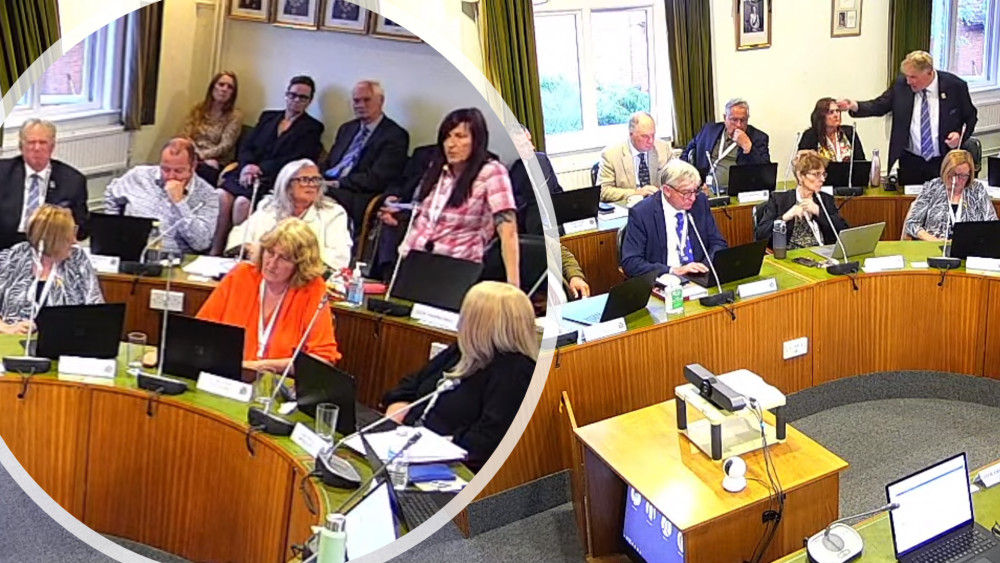 Councillors Adrian Fluker and Vanessa Bell disagreed over the issue of members' allowances. (Photos: Maldon District Council).
Councillors clashed over the issue of members' allowances during a discussion on Special Responsibility Allowances, at Maldon District Council's Statutory Annual meeting on Thursday (May 18).
At the start of the meeting, Councillor Kevin Lagan was elected Chairman of the Council. However, the positions of Vice-Chairman, Council Leader, Deputy Leader, Opposition Leaders, Committee Chairs, and outside representatives will be decided at an extraordinary meeting on Thursday 8 June.
Annette Cardy, the council's Resources Specialist Services Manager, presented a report on whether certain members should receive an increase to their Special Responsibility Allowances (SRA). An SRA payment is made to councillors who hold more than one position on the council, on top of their basic allowance of around £5,000 per year.
The report said current SRA payments were fair and consistent with other local authorities. It also recommended that District Planning Committee Chairs should receive an extra 37.5 per cent increase on their basic allowance (costing £2,000 a year), as they currently do not get any extra pay.
However, it said SRA payments to the Chair of the Overview and Scrutiny Committee should be reduced, "to reflect the infrequency of meetings and the workload".
Cllr Wendy Stamp (Ind) disagreed with the recommendations and said SRA payments should remain as they currently are. Cllr Adrian Fluker (Ind) seconded her recommendation.
Councillor Paula Spenceley (Lib Dem), who previously served as Vice-Chair of the Committee, said: "My concern with this is that Overview and Scrutiny could, in a sense, be thought of as less important than it is.
"We should be meeting more often, and the workload needs to be more intense."
Cllr Spenceley agreed with Cllr Stamp's proposal.
Moving discussion to the subject of councillors' basic allowances, Cllr Fluker said: "The Vice-Chairman of one of the main committees gets an additional £1,200 a year. Generally speaking, there are six meetings, so that's £200 a meeting."
He gestured towards Conservative councillors, adding: "It equates to about £40 an hour, which is quite a lot, bearing in mind the people who voted for these increases won't even pay the nurses a proper wage."
Cllr Fluker recommended members' basic allowances be reverted, saying it would show the public the council was trying to close its budget deficit.
Cllr Vanessa Bell (Ind) hit back at Cllr Fluker, saying: "I was disappointed that Cllr Fluker doesn't want to include ordinary working people on this council.
"I know I'm not the only councillor who had to give up paid work to give this role my full attention.
"It's all very well and good if you can afford it. But if you can't, should you be excluded from sitting on the council because you can't afford to put food on the table?"
Cllr Stamp's motion passed with 24 votes in favour of it. One member voted against it, while seven members abstained.
Long service awards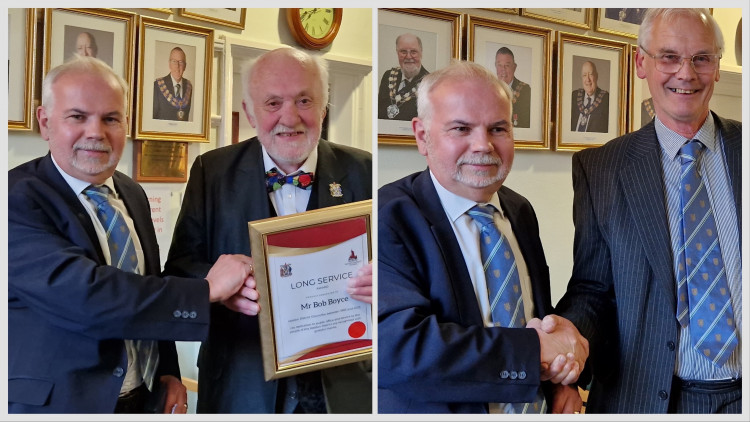 Outgoing Council Chairman Robert Boyce MBE (pictured left with Stephen Nunn, far left) has been a councillor since 1983 - Richard Dewick (pictured far right) has since 1991, Penny Channer since 1995, and Brian Beale MBE since 1987. (Photos: Maldon District Council)
Earlier in the meeting, long service awards were presented by former Vice-Chairman Stephen Nunn to Bob Boyce MBE and Richard Dewick, in recognition of their long service to the Council. Long service awards will also be given to Penny Channer and Brian Beale MBE who were unable to attend.
On May 5, outgoing Chairman Robert Boyce and outgoing Vice-Chair Stephen Nunn undertook one of their last engagements by planting a pair of trees in Burnham-On-Crouch and Maldon, to commemorate the life and reign of Queen Elizabeth II.
Read more
New maldon Jobs Section Launched!!
Vacancies updated hourly!!
Click here: maldon jobs